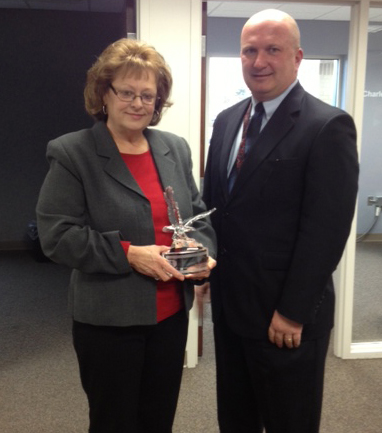 Charlene Nardo Given Leadership Award
DOVER, DE (March 28, 2013) – Dover Federal Credit Union is proud to announce that Charlene Nardo has been given the 2012 Albert J. Schmidt Leadership Award. The award, which was created to honor the legacy of leadership exemplified by long-term employee Mr. Albert Schmidt, is presented annually in recognition of an employee who has shown outstanding leadership abilities.
Ms. Nardo earned the distinction through her consistent dedication to creating exceptional member experiences, and by constantly working with her staff to ensure that they are always prepared to provide members with reliable and friendly support. In addition, Ms. Nardo has repeatedly proven to be a caring, involved mentor for future Dover Federal leaders, helping them to improve their skills and enhance their future prospects.
"Charlene brings a very special quality to the Dover Federal family," says David Clendaniel, Dover Federal's President and CEO. "Her dedication to creating the best possible experience for our members is a great example to all our employees, and we are honored to have her among us. "
First chartered in 1958, Dover Federal Credit Union is the largest credit union in the state of Delaware, with a membership of 38,293. Dover Federal has offices in Smyrna, New Castle, Milford, and Dover, including one at Dover Air Force Base. Dover Federal has proudly served the military and Delaware families for over 50 years. Dover Federal now serves the small business community. More information can be found on Dover Federal's website, at www.doverfcu.com.
---