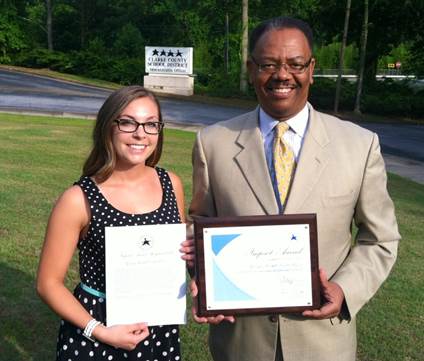 Clarke County School District Names Georgia United Credit Union as 2013 Impact Award Recipient
ATHENS, GA (June 14, 2013) Clarke County School District named Georgia United Credit Union as a recipient in their 3rd annual Impact Awards at their June 13th Board Meeting.  This is an honor designed to recognize organizations that have made significant, lasting and ongoing contributions to the students of the Clarke County School District.
"The organizations that have received this year's Impact Awards have gone above and beyond in supporting our students, teachers and staff, and they deserve to be recognized at a community level," said CCSD Superintendent Philip D. Lanoue. "This award is our way of thanking these organizations for making a real difference in the lives of Clarke County students."
Anisa Sullivan Jimenez, Clarke County School District's Public Relations and Communications Director, personally nominated Georgia United for this award and shared the following information about Georgia United and the five other Athens organizations which were recognized:
Georgia United Credit Union has supported the school district in countless ways. They have provided meals for New Teacher Orientation, sponsored the Kicks for Cash program where high schools can earn up to $2,000 during football season, participated in Adopt a Class, served as a sponsor of the Foundation for Excellence Awards Banquet, sponsored a Clarke County School District billboard this past year, provided the Volunteer Income Tax Assistance Program, established the Teachers Make a Difference Program – which a Clarke County teacher won this past year, donated school supplies, have the Pay for A's program for students, offered free financial seminars to school district staff and students, offered employee discounts and much more.
Athens Church – mentoring partner of Cleveland Road Elementary School, who also provided field funding, donated breakfast and lunch for teachers, made a school sound system update possible and funded netbooks for students to use in math and reading.
Compass Church – an active partner with Fowler Drive Elementary School for seven years, providing holiday gifts for families, weekly English lessons for parents,  a mobile food pantry, volunteers for school events,  donated uniforms and school supplies, assisted school in packing and unpacking when Fowler moved from its old building to its current one.
Green Acres Baptist Church has partnered with Cedar Shoals High School and Hilsman Middle School as volunteers, tutors and field trip chaperones. The use of their fellowship hall was donated for the Seeing is Believing bus tour.
Interfaith Hospitality Network of Athens (IHN) works with homeless families, helping them find a safe place to stay, secure a job and get back on their feet. An organization representative meets with a Clarke County representative each week to discuss the students being served and ensure they are receiving needed services. Organization representatives work with schools to ensure that children being served by them are successful, and they provide any material support that is necessary.
Rack Room Shoes raised almost $6,000 during their annual fundraising event this past year, the majority of which went to Clarke County schools. These funds ensure that hundreds of children representing every school are able to have shoes that fit and are appropriate for school and play.
About Georgia United Credit Union
Georgia United Credit Union is ranked as one of the top credit unions in Georgia with over $940 million in assets and sixteen branch locations, including two in Athens. Georgia United is in business to save members time and money in their personal finances. Georgia United Credit Union is federally insured by the National Credit Union Share Insurance Fund (NCUSIF), up to $250,000 per account.
Georgia United serves the faculty, staff, students and alumni of the University of Georgia, residents of Clarke County, and employees and family members of over 450 select employee companies and school systems including Clarke County.  Additional information may be found at www.georgiaunitedcu.org. 
---