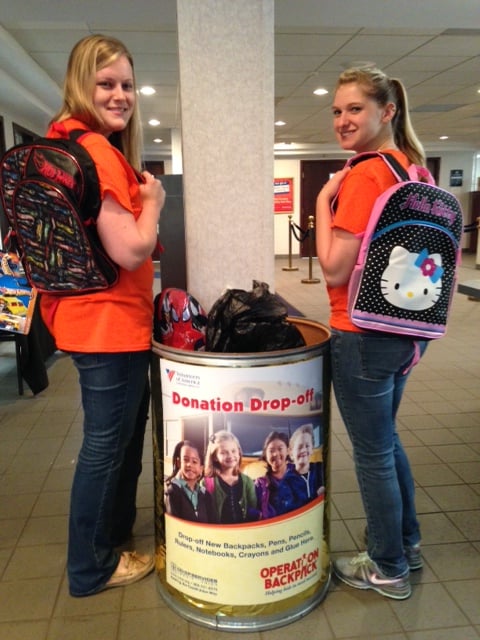 Co-op Services Credit Union hosts 6th Annual Backpack Drive through August 22
Accepting new backpacks and school supplies at 11 branch locations
 LIVONIA, MI (August 12, 2014) — Co-op Services Credit Union has launched its sixth annual Backpack Drive to run through Friday, August 22, 2014.  Partnering with Volunteers of America, Co-op Services is collecting new backpacks, folders, notebooks, pens, scissors, pencils and other supplies that will go to needy students throughout Michigan.  Donation boxes are located at the credit union's 11 metro Detroit branch offices including Rivers Edge Financial, a division of Co-op Services with offices in Allen Park, Taylor and Woodhaven.
The donations will be distributed through Volunteers of America and its Operation Backpack initiative.
The Backpack Drive was kicked off with a "School Spirit" dress-down day for staff who wore jeans and t-shirts from their favorite schools in exchange for individual donations of one backpack or five school supplies.
"Many of the bins were already full with staff donations by the end of the first day," said Jeremy Cybulski, youth and community development coordinator for Co-op Services Credit Union. "Every year we marvel at the generosity of our credit union members, staff and partnering communities. It's a testimony to how important these supplies are to helping kids succeed."
Cybulski added that Volunteers of America is a great partner by helping to provide posters, online support and distribution of supplies to needy students throughout Michigan.
Along with donations of new backpacks and new school supplies, monetary donations are also welcome.
Headquartered in Livonia, Co-op Services Credit Union has more than 51,000 members and maintains eleven full-service branch offices in metro Detroit.  Members also have access to more than 3,000 shared branches and nearly 28,000 ATMs nationwide.  Member deposits are insured to $250,000 by the National Credit Union Administration (NCUA), a U.S. government agency. For more information about Co-op Services, visit the credit union web site at www.cscu.org or call 800.321.8570.
Photo Caption: Margaret Shupe, Co-op Services' assistant branch manager in Livonia, and Member Service Representative Katelyn Fava, at right, model new backpacks donated by staff during the credit union's Backpack Drive.
---