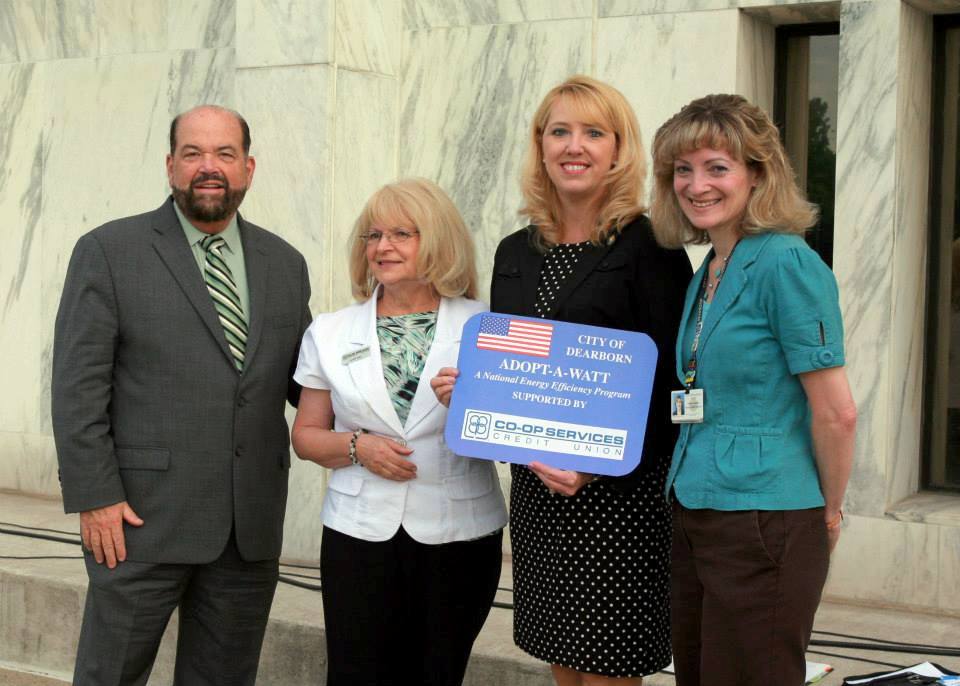 Co-op Services Credit Union Participates in Adopt-A-Watt Program at Henry Ford Centennial Library
LIVONIA, MI (August 19, 2013) — As part of Co-op Services' three year pledge to Dearborn's Adopt-A-Watt program, the credit union recently helped to provide new high energy-efficient lights and an electric vehicle charge station in the Henry Ford Centennial Library's parking lot.
A special ceremony that included a demonstration of the library's newly installed electrical vehicle charging station was held earlier this month.
"Co-op Services is pleased to continue its partnership with this innovative program that helps Dearborn reduce energy costs over the long term and utilize those savings for other energy efficient initiatives to benefit the community," said Lisa Fawcett, the credit union's vice president of marketing.
In 2011, Co-op Services also helped to provide an energy and money saving program for two public parking structures that are located only a few blocks from the credit union's branch on Michigan Avenue in west Dearborn.
According to the Adopt-A-Watt program, the combined initiatives will save the city of Dearborn $176,000 in operating costs.  The new lights are expected to last 100,000 hours.
The Adopt-A-Watt program is a public-private partnership developed by Royal Oak businessman Thomas Wither.   Businesses are asked to help sponsor energy efficient lights so that monies saved can be used for other green initiatives.
Headquartered in Livonia, Co-op Services Credit Union has more than 49,000 members and maintains eight full-service branch offices in the Detroit metro area.  Members also have access to more than 6,800 credit union service centers and nearly 30,000 ATMs nationwide.  Member deposits are insured to $250,000 by the National Credit Union Administration (NCUA), a U.S. government agency. For more information about Co-op Services, visit the credit union web site at www.cscu.org or call 800.321.8570.
---