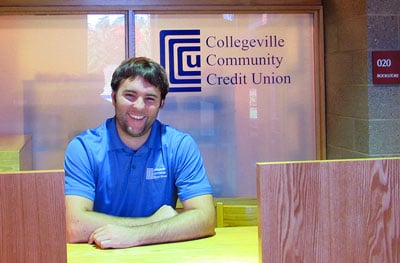 Collegeville Community CU opens branch at St. John's University
COLLEGEVILLE, MN (October 30, 2014) — There used to be a TV commercial that popularized one of the more memorable advertising slogans of the 1980s, "I liked the shaver so much, I bought the company."
Justin Ostendorf kind of knows that feeling.
"I was just at the right place at the right time, and kind of stuck with it," said Ostendorf, a 2014 graduate of Saint John's University.
He's gone from being a member of the Collegeville Community Credit Union to an internship to a part-time position at the credit union, which is located about a mile west of the SJU campus on Fruit Farm Road. Now, he's set to become the manager for a branch of the credit union in Sexton Commons, near the entrance of the SJU Bookstore. The branch is scheduled to open Wednesday, Oct. 29.
Ostendorf will be in charge of hiring six to eight students to work in the branch. He'll also determine the hours of operation and employee schedules.
"The whole notion is to offer a bunch of opportunities on the educational side — real opportunities for students," said Collegeville Community Credit Union CEO Mark Douvier, a 1986 graduate of SJU. Douvier added that the credit union hopes to establish partnerships with several academic departments and clubs on campus.
"I don't know what to expect," Ostendorf said of the opening. "I feel a little anxious, but I think it's going to be good."
"We know that we have the right people involved (in the project), and Justin is the right guy for the job," "He (Ostendorf) has shown us that in the last couple of years."
About a half dozen years ago, Douvier attended a credit union conference and heard about the concept of bringing a credit union branch to a university campus. He was interested, and thought it might work at SJU. About two years ago, he approached Terri Barreiro, who was then director of the McNeely Center for Entrepreneurship.
"She (Barreiro) was head over heels about the idea," Douvier said. "We got Mary Jepperson (associate professor of accounting and finance at the College of Saint Benedict and Saint John's University) involved, and they were instrumental in getting Dick Adamson (vice president of finance and administration at SJU) on board.
"Dick has sort of evolved as a champion of the project, and it has gained momentum in the last year," Douvier said.
Enter Ostendorf, a native of St. Joseph who began his college career interested in becoming a pharmacist.
"I started off as a chemistry major, but that was a very short-lived field. I think I made it about two weeks in that, and then I switched to (management, with a concentration on accounting) shortly after that," Ostendorf said. "I did a 180 on that one.
"Management is just a really broad field. I hoped to specialize in something within the field of management," Ostendorf said.
One day, he stopped into the credit union and spoke to Douvier.
"Mark asked me what my major was, and if I'd be interested in working there part-time through school due to some issues going on – a leave of absence. That's how I got started," Ostendorf said. "Then the whole thing just really started taking off with the student branch. I was in the right place at the right time."
Ostendorf enjoys helping customers at the credit union.
"You're not working the normal sales job, where you're going out cold-calling people. They come to you for help. It's kind of nice to be able to help them out," he said.
"Justin has been a real go-getter for us," Douvier said. "He's not the kind of guy who just sits there. He kind of observes what's going on, and takes the initiative to try and figure out how to do it. The nice thing about us is, we're very small. We have a lot opportunity if you want to seize the opportunity, and that's what Justin did."
The Collegeville Community Credit Union received a $2,100 grant in April from the Minnesota Credit Union Foundation to help establish the branch. Among the services offered will be checking and savings accounts, credit and debit cards and student and car loans.
---