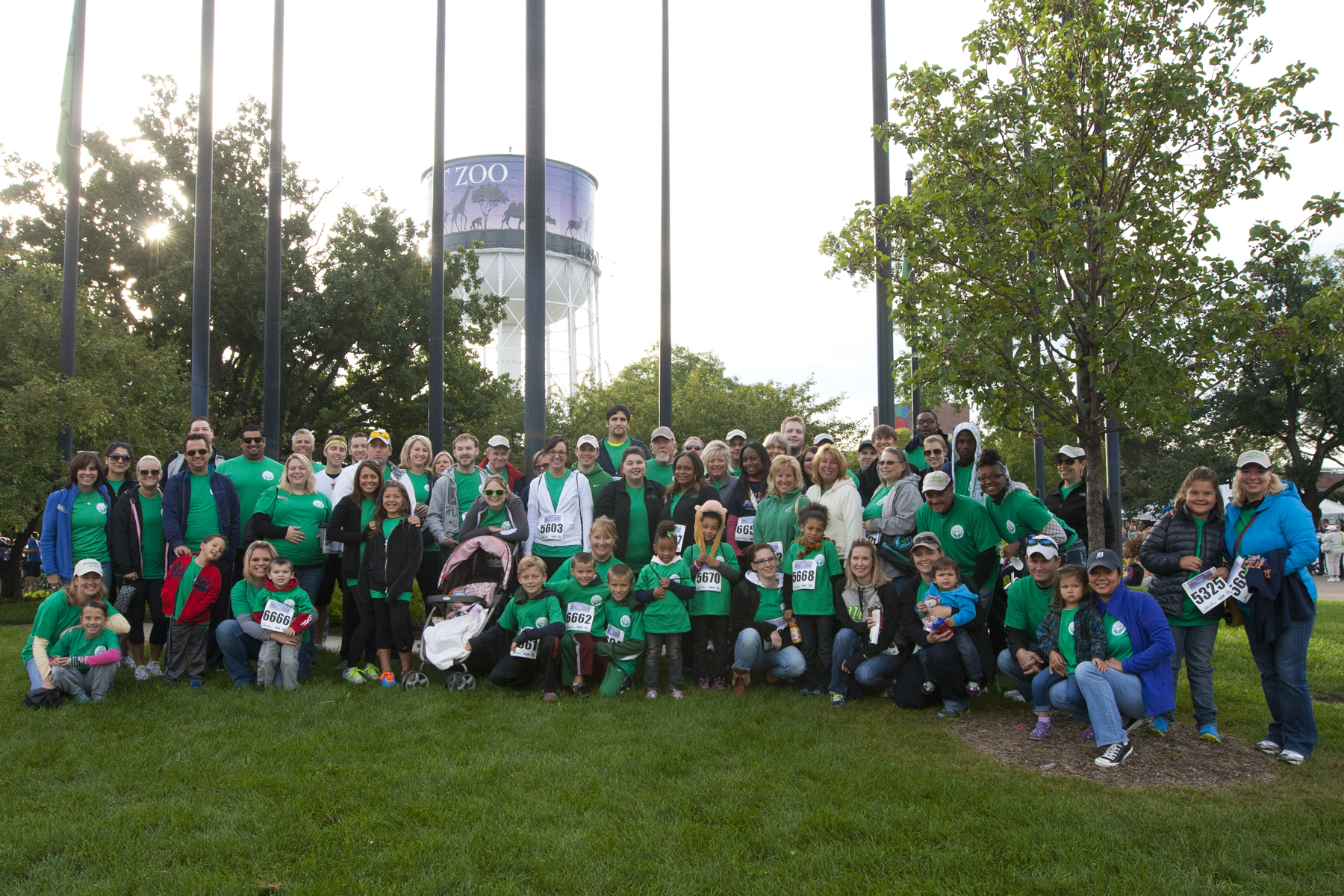 Community Choice Credit Union puts community first with weekend of paying it forward
FARMINGTON HILLS, MI (September 25, 2013) — Community Choice Credit Union recently completed its annual Give Big Weekend which began on September 12 and concluded on September 15. The weekend, dedicated to volunteerism in Southeastern Michigan communities, featured more than 400 credit union employees, members, family and friends. Together, this group accomplished the following:
– 1,105 hours volunteered
– 12, 376 pounds of food packaged and moved
– More than $5,000 raised
– 79 whole blood units, saving up to 237 lives
Give Big Weekend supported the following organizations and causes: Vista Maria Women's Shelter, Gleaners Community Food Bank, Forgotten Harvest food bank, the American Red Cross, Milford Park cleanup, the Community Choice Foundation, and the Detroit Zoological Society.
"Give Big Weekend keeps growing year after year," said Abbey Bierlein, Foundation Coordinator at Community Choice Credit Union. "Being alongside your co-workers as you donate blood, clean up a park, or repackage food is truly a unifying and gratifying experience. I am so proud of Community Choice team members who are constantly giving back and improving our communities."
Credit Union begins weekend saving lives
The Credit Union kicked off its events on Thursday, September 12 and Friday, September 13 by hosting a blood drive at branch locations in Warren, Livonia, Farmington Hills and New Hudson. By collecting 79 pints of blood, the Credit Union's blood donations will save as many 237 lives(1). In July, the American Red Cross issued an emergency news release asking for more blood donations due to an extreme blood shortage. In the news release the Red Cross revealed that nationwide blood donations were down by 10 percent in June(2).
"Our blood donors help make a difference for many types of patients, including children with cancer and those who need ongoing treatment for sickle cell disease," said Diane E. Ward, CEO for the Southeastern Michigan Blood Services Region of the American Red Cross. "Blood transfusions are crucial to both groups of individuals and play an important part in helping to extend and save their lives."
The Credit Union beautified a Milford Park and helped package foods at two local food banks on Saturday, September 14. Both Gleaners Community Food Bank and Forgotten Harvest were filled with eager volunteers moving and packaging food. In September, the Credit Union was recognized by Forgotten Harvest for ranking in the top 20 amongst organizations who have volunteered in 2013 at the food bank.
"We are really fortunate to have the backing of the Credit Union so we can help end hunger," said Michael Lubeck, a Personal Advisor at the Credit Union's Warren branch. "When you volunteer at organizations like Gleaners or Forgotten Harvest, it is extremely rewarding because you know your efforts will prevent someone from going to bed hungry."
On Sunday, September 15, Community Choice concluded its massive weekend of giving by participating in the Detroit Zoo Run Wild event, which raised money for the Detroit Zoological Society. The Credit Union had 129 participants at the event and in total contributed more than $5,000 towards the Detroit Zoological Society.
A culture of paying it forward
Credit unions have a strong history of supporting community and charitable programs through volunteerism. As not-for-profit organizations, owned by members of local communities, credit unions believe in the philosophy of people helping people. Community Choice Credit Union has taken this philosophy and maximized it by utilizing a group of volunteer team members known as the Give Big Committee.
"The Give Big Committee meets on a regular basis to help plan for charitable opportunities," said Jessie Sinno-White, Give Big Committee Chairperson. "The committee is made up of a variety of Credit Union team members, from different backgrounds and experiences, and provides a structured opportunity for us to focus on ways to enrich our local communities."
Throughout the year the Credit Union offers 24 hours of paid volunteer time to each full-time employee, a scholarship program, free financial education seminars, and special community outreach initiatives. Since its creation in 2009, the Credit Union and its non-profit Foundation has awarded more than $750,000 supporting its community outreach and scholar initiatives.
"Our scholar program was inspired by our President and CEO, Robert Bava's vision to find a way to help end Michigan's brain drain," said Bierlein. "Recipients of our scholarships pledge to use their education to give back to Michigan communities after graduation. By encouraging students to stay in Michigan, we're doing our part to ensure the great future of our state."
1Source: American Red Cross as of July, 2013. See http://www.redcrossblood.org/news/southeasternmichigan/red-cross-issues-emergency-call-blood-and-platelet-donors
2Source: American Red Cross as of July, 2013. See http://www.redcrossblood.org/news/southeasternmichigan/red-cross-issues-emergency-call-blood-and-platelet-donors
About Community Choice Credit Union: Established in 1935, Community Choice Credit Union offers a wide variety of financial products and services for both consumers and businesses. Any individual who lives, works, or worships in the following counties is eligible to become a member of Community Choice Credit Union: Genesee, Lapeer, Livingston, Macomb, Oakland, St. Clair, Washtenaw or Wayne County, Michigan. Since 2008, the Credit Union has invested more than $750,000 dollars and 8,000 volunteer hours into its charitable Give Big efforts throughout Michigan. For more information, visit CommunityChoiceCU.com.
---