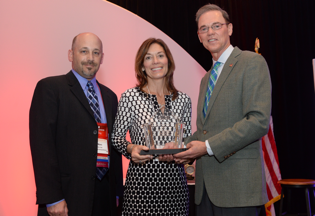 Community Resource FCU receives marketing award
SARATOGA SPRINGS, NY (July 12, 2014) — Community Resource Federal Credit Union accepted the Ralph W. Hillman Marketing Award from Universal Sharing Network (UsNet) on Saturday, June 21 at the Credit Union Association of New York's annual convention at the Hilton in Saratoga Springs, New York.  The award recognizes one credit union each year that has consistently and enthusiastically promoted the UsNet shared branching network.
"Ralph Hillman was a marketing industry leader who was deeply admired for his commitment to excellence and his dedication to strengthening the shared branching network. We are honored to receive this award in his memory and to be recognized for our marketing efforts," said Wendy Meola, Director of Marketing for Community Resource Federal Credit Union.
Community Resource Federal Credit Union achieved a 110% increase in shared branching usage in the past year. The Credit Union accomplished this growth through introducing a mobile application that allows members to find shared branching and surcharge-free ATMs with their smart phones or tablets. In addition, Community Resource used direct mail, newsletter articles, web and email ads, signage, messages on hold, statement inserts and statement messages to promote the service. Community Resource also emphasizes member education through cross selling.
Community Resource Federal Credit Union is a community credit union serving those who live, work, worship, or attend school in Albany County and their families.  Community Resource provides friendly service, outstanding rates, and low fees on a full range of financial products.  Community Resource has $75 million in assets and 6,700 members.
---