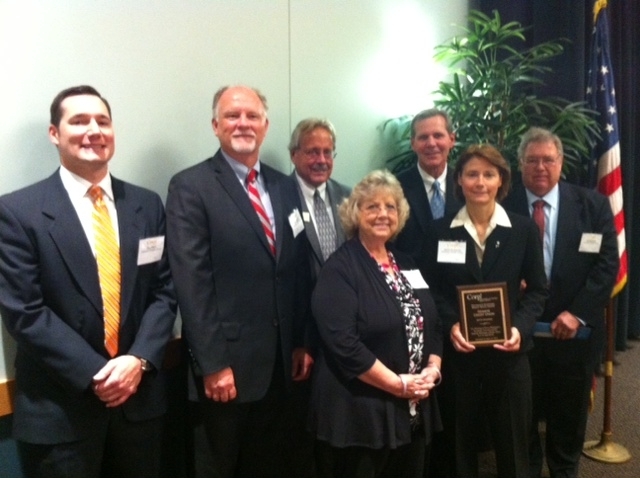 CORP! Magazine Awards Genisys with Economic Bright Spots Award
AUBURN HILLS, MI (July 11, 2013) — Genisys Credit Union, which provides services to anyone who lives or works in the Lower Peninsula, was recently awarded Corp! Magazine's Michigan's Economic Bright Spots Award and was honored at an awards breakfast.
"Genisys is honored to accept this prestigious award," said Jackie Buchanan, President/CEO. "We stand by the 'people helping people' philosophy and feel fortunate to be able to help make a difference in many communities throughout Michigan."
Genisys was one of the honorees out of hundreds of nominations demonstrating that there are Michigan-based companies who are growing, thriving and standing out from the crowd. In order to continue to position itself for success, Genisys invested in additional staff training, re-organized reports and accountability structures, continued development and implementation of technologies to improve efficiencies and add member convenience, and reduced expenses in response to the changing marketplace and economy.
"We found that this year's winning companies seem to share some common traits – a willingness to innovate and look for new opportunities even in a down market, an effort to diversify and adapt their business models even while cutting costs, and a love and desire to do business in Michigan," said Jennifer Kluge, Corp! Magazine Publisher.
For more information on Corp! Magazine, please visit their website at www.corpmagazine.com or contact them at (888) 277-6464.
About Genisys Credit Union
Genisys Credit Union is a not-for-profit, member-owned financial institution that has been committed to helping its members financially since 1936. Based out of Auburn Hills, MI, Genisys is one of the largest credit unions in Michigan, with over 138,000 members and 24 branch locations. Anyone who lives or works anywhere in the Lower Peninsula of Michigan can open an account at Genisys Credit Union. They are proud to be making a difference in their communities, and truly believe that Genisys is "where you come first". Connect with Genisys on Facebook and Twitter by following "GenisysCU". For convenient access to your account, download the Genisys iPhone App in the iTunes Store and Android App in the Google Play Store. For more information or a calendar of events, visit Genisys online at www.genisyscu.org.
---