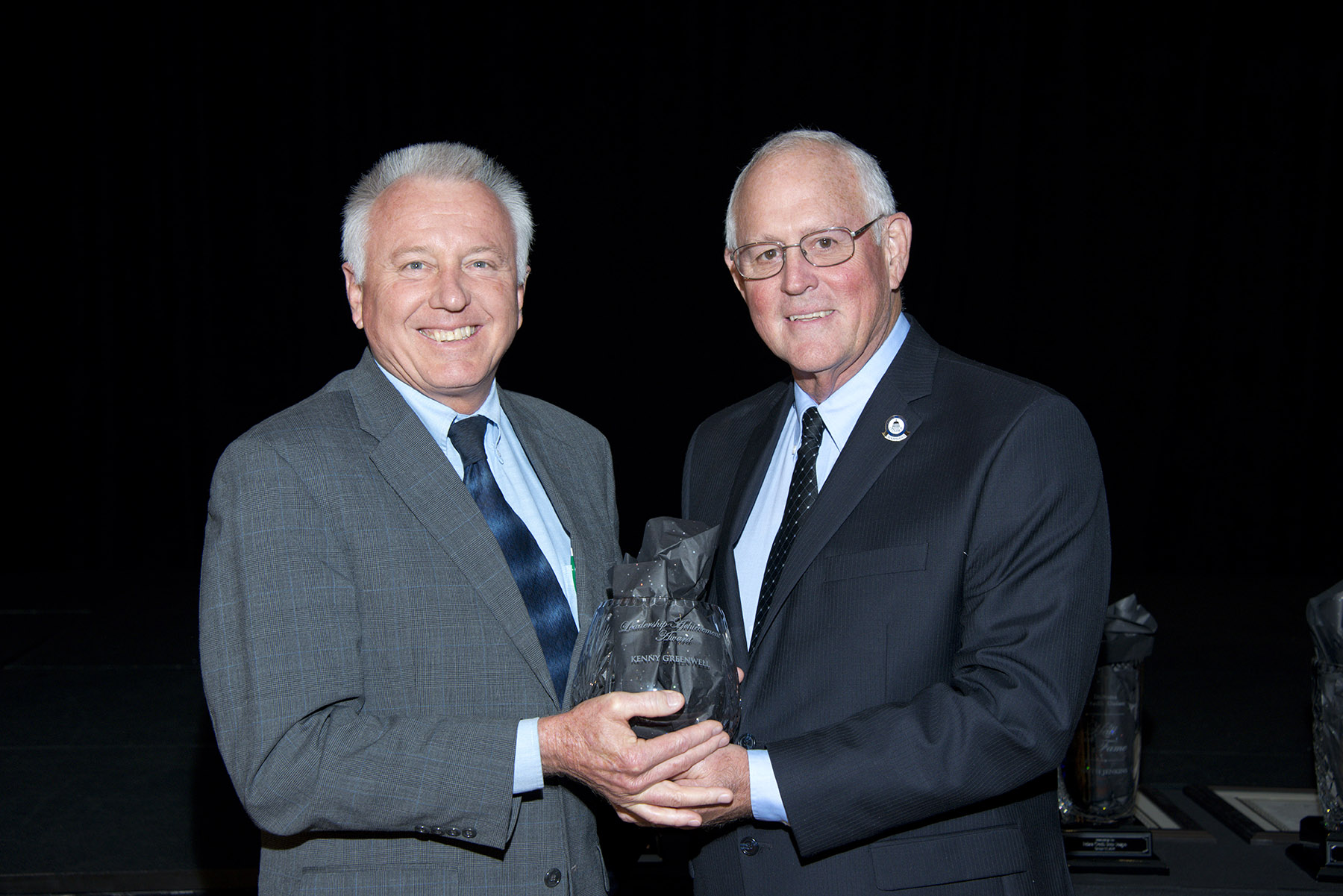 Crane Federal Credit Union's Kenny Greenwell receives Leadership Achievement Award
INDIANAPOLIS, IN (November 12, 2014) — Kenny Greenwell, a board member at Crane Federal Credit Union in Odon, is the Indiana Credit Union League's 2014 recipient of the Leadership Achievement Award. The presentation was made at the Chairman's Awards Banquet at the JW Marriott Hotel on October 17 as part of a special event during the League's statewide convention.
Greenwell is a retired Civil Servant and a former Department of Defense Technical Expert for Service, Joint and NATO Activities. He became involved with the Crane FCU in 1978 when he was elected to the Credit Committee. He sought this position because he wanted to help member-borrowers have access to the most favorable rates. There have been several milestones at the credit union since Greenwell became involved including growth in assets from $2 million to $422 million. During his tenure Crane Credit Union has expanded to serve its Field of Membership by opening branches in the five counties around the Crane Naval Base, Terre Haute, Plainfield and and Franklin, IN. As a Department of Defense Contractor, Kenny was able to work directly with the Commander at Camp Atterbury to achieve an on-base financial institution at Camp Atterbury. In 2010 Crane FCU was selected by the Department of Defense to be the first financial institution to serve a military installation in more than 13 years. Kenny has been involved in a number of other initiatives at the credit union and completed two-terms as chairman of the board.
His service in the US Navy and work at US Joint Forces Command in Norfolk, VA is a particular point of pride for him. He received the Joint Distinguished Civilian Service Award from General Hugh Shelton, Chairman of the Joint Chiefs of Staff in 2000.
Outside of credit unions and the Navy, Kenny's interests include long distance running, ancestry and history, neighborhood revitalization, Affordable Housing, Big Brothers Big Sisters, Knights of Columbus, American Legion, Boy Scouts and American Cancer Society.
The Leadership Achievement Award recognizes credit union volunteers/officials who have given selflessly to promote the credit union ideal and to better the credit union movement in Indiana.
Photo Caption, from left: Kenny Greenwell from Crane Federal Credit Union receives his award from League Chairman Dave Fleming of Union Baptist Church Federal Credit Union.

The Indiana Credit Union League is the statewide trade association for credit unions in Indiana. Those credit unions serve more than 2 million Hoosiers. 
---