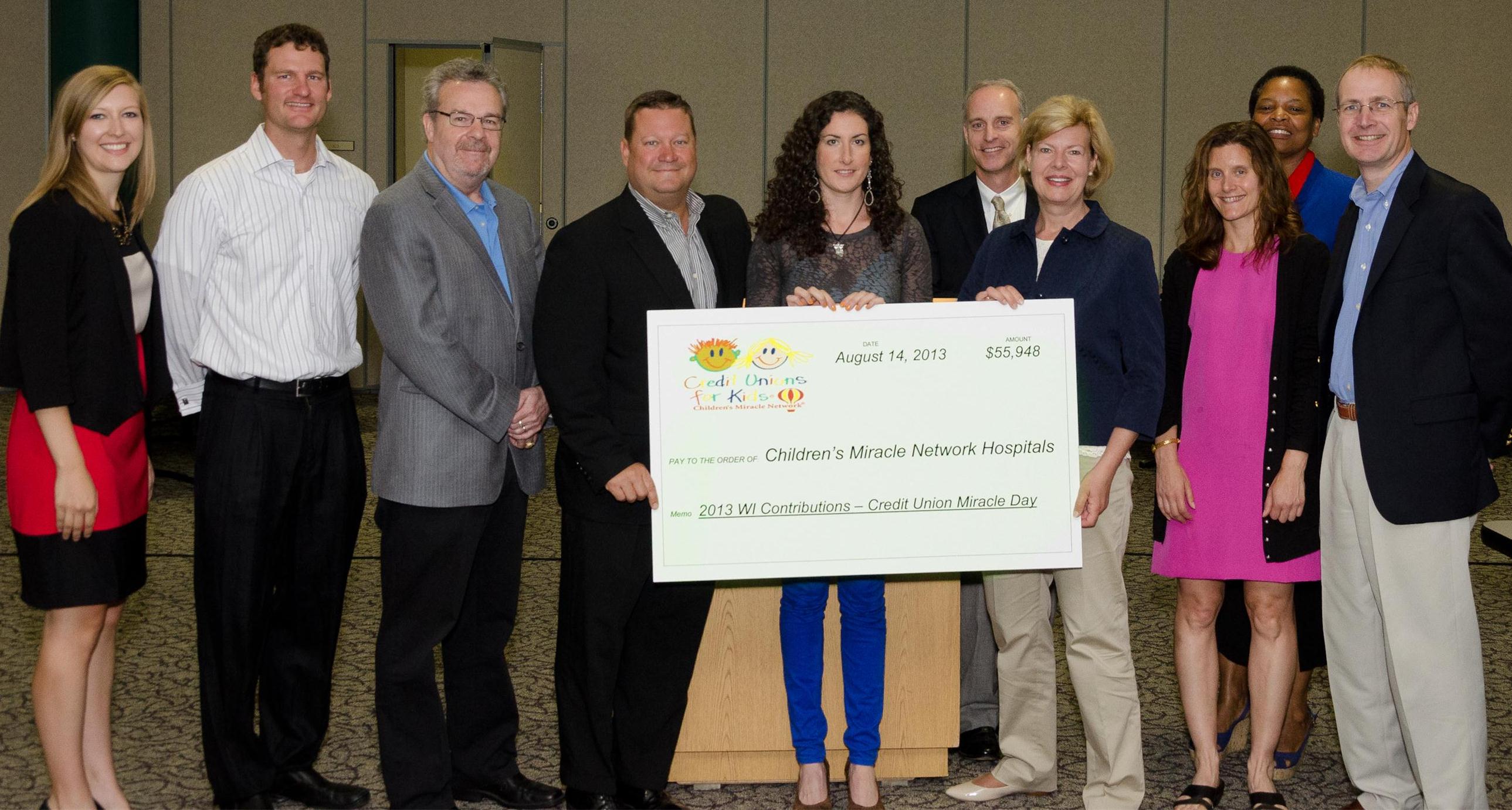 Credit Union Industry Raises $55,000+ for Wisconsin Children's Miracle Network Hospitals
MADISON, WI (August 22, 2013) — Wisconsin credit unions and affiliated industry partners have contributed more than $55,000 to the state's Children's Miracle Network (CMN) hospitals. The money, donated through the Credit Union Cherry Blossom Ten Mile Run® in Washington, D.C., provides health care for sick and injured children.
U.S. Sen. Tammy Baldwin, D-Wis., served as an honorary co-chair of the race held in April.  CUNA Mutual Group runners and others affiliated with the race met with Baldwin on the Credit Union Center campus in Madison recently to share results of the fundraiser.
The title sponsor group of the race, Credit Union Miracle Day (CUMD), has chosen CMN as its charity of choice, donating more than $6 million to CMN since 2002. A registered 501(c)(3), CUMD also sponsors the Credit Union SacTown Ten-Mile Run in Sacramento, Calif., and two Freedom Runs for  troops overseas. By contributing to CMN, the credit union movement provides aid to thousands of families and exemplified the movement's defining spirit of "people helping people."
"Through CUMD, credit unions, their partners, and runners all unite for good in order to support families in their time of need," said Christopher Roe, senior vice president, CUNA Mutual Group, and a former member of the Board of Directors of CUMD.  "While this race takes place in Washington, Senator Baldwin, as an honorary co-chair, understands the funds raised from Wisconsin benefit local children's hospitals in the state.  We look forward to the continued success of CUMD and being able to help our local communities in Wisconsin."  CUNA Mutual Group is a National Business Partner of the Credit Union Cherry Blossom Ten Mile Run.
Other Wisconsin supporters that contributed to Credit Union Miracle Day through the Credit Union Cherry Blossom Ten Mile Run include: Credit Union National Association (CUNA), Fiserv, Credit Union Executives Society (CUES), and the National Credit Union Foundation.
Of the $55,000 raised this year, $18,333 went to Children's Hospital of Wisconsin in Milwaukee.  Although the world-renowned Children's Hospital treats children from across the United States, many of its patients are referred from the Madison area.  The Gunderson Lutheran Medical Center ($18,333) and Marshfield's St. Joseph's Children's Hospital ($18,333) also benefited from state credit unions' fundraising.
Children's Miracle Network Hospitals is an affiliation of more than 170 children's hospitals across the United States.  Donations to Children's Miracle Network Hospitals help secure cutting-edge treatments, vital health education and groundbreaking research for sick or injured children.
To learn more about CUNA Mutual Group, follow @CUNAMutualGroup on Twitter, circle +CUNA Mutual Group on Google+, or visit http://www.cunamutual.com/pressroom.
CUNA Mutual Group insurance, retirement and investment products provide financial security and protection to credit unions and their members worldwide. With more than 75 years of true market commitment, CUNA Mutual's vision is unwavering: To be a trusted business partner who delivers service excellence through customer-focused products and market-driven insight. More information on the company is available on the company's Web site at www.cunamutual.com.
CUNA Mutual Group is the marketing name of CUNA Mutual Insurance Society, its affiliates and subsidiaries, including CUMIS Insurance Society, Inc.  Product availability and features may vary by jurisdiction and are subject to actual policy language. Corporate headquarters are located in Madison, Wisconsin.
---