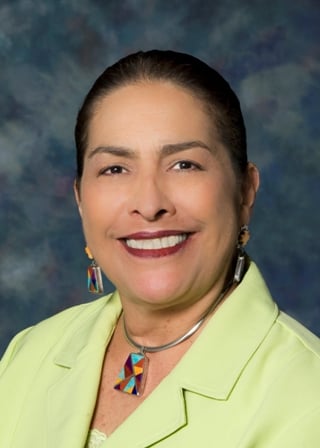 Credit Union ONE Board Member Assumes Homeland Security Position
Ferndale, Michigan – One of Credit Union ONE's Board of Directors has been recently recruited for a very important position with the Department of Homeland Security.
Guadalupe G. Lara, Vice Chairman of the Credit Union ONE Board is the new Director of Knowledge Management, Senior Fellow, IPA at Homeland Security.  This position will influence national efforts through the federal executive branch to address the well-being needs of children, youth and families; specifically increasing understanding and leading to better outcomes for children and families touched by the immigration and child welfare systems.
Ms. Lara has spent most of her working career advocating for children and families in a variety of leadership positions, and is also a well-recognized motivational speaker.  She has served on the Board of Credit Union ONE since 1992.
"It is a great honor for our organization to have a director take on a role that can influence and help solve one of our nation's toughest challenges, said Gary Moody, President/CEO of Credit Union ONE.   As a member of the Credit Union ONE Board of Directors Lupe has been at the forefront of assuring the values of fairness, respect and dignity apply to all members in all circumstances.  There is no doubt that same approach will lead her to great success in this new position."
Credit Union ONE, headquartered in Ferndale Michigan for over seventy years, offers a wide array of financial services and access to over 28,000 ATM's nationwide, serving 106,000 members, with eighteen offices in three major metropolitan areas, including Metro Detroit, Grand Rapids and Traverse City. For more information go to http://www.cuone.org or "like us" on Facebook.
---