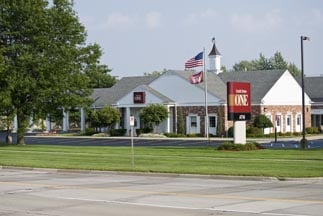 Credit Union ONE receives Beautification Award
FERNDALE, MI (October 27, 2014) — Credit Union ONE was recently awarded the "Best of the Best Commercial Property" for its Sterling Heights branch by the Sterling Heights Beautification Commission on October 7th.
Beautification Chairman Aaron Wawrzyniak said the commission received nominations during a five-month period before determining this year's winners, including "Best of the Best" honorees in four categories.  "We reviewed and selected only superior properties that had a 'wow' factor when seen from the curb," said Wawrzyniak.  "The winners were chosen based on overall beauty, aesthetics and artistic use of color."
"We are proud to receive this award, and appreciative that the Beautification Commission acknowledged the pride that we take in our properties," said John Kozich, Credit Union ONE Vice President of Community Relations.
Credit Union ONE, headquartered in Ferndale Michigan for over seventy-five years, offers a wide array of financial services and access to over 30,000 ATM's nationwide, serving 110,000 members, with eighteen offices in three major metropolitan areas, including Metro Detroit, Grand Rapids and Traverse City. For more information go to cuone.org or "like us" on Facebook
Photo: Credit Union ONE Sterling Heights Branch
---