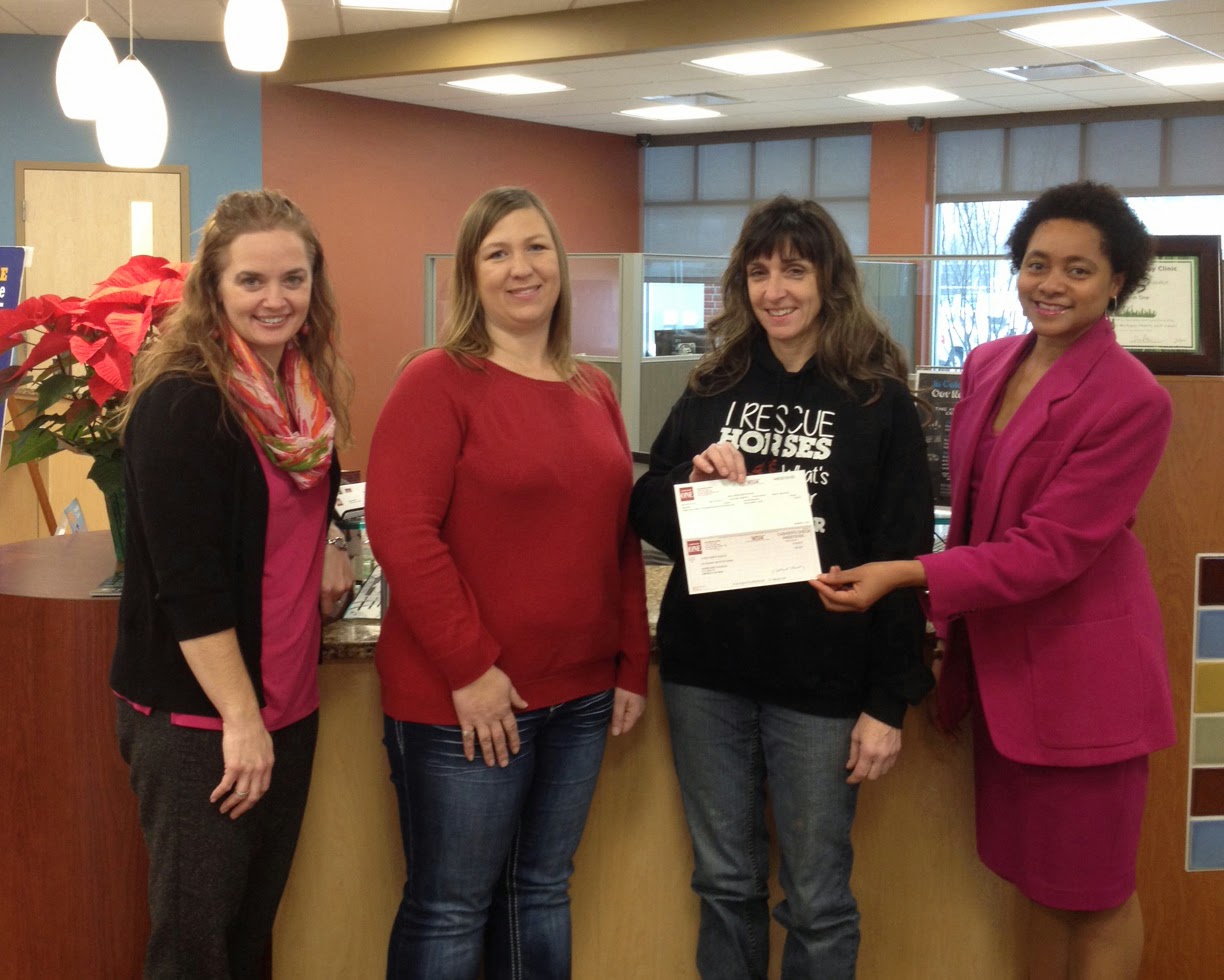 Credit Union ONE recognizes hometown charity giveaway winners
FERNDALE, MI (February 19, 2015) — Credit Union ONE Facebook fans were recently given the opportunity to choose their favorite local charity to win a $500 prize.
To engage their fans and connect with the communities they serve, Credit Union ONE held a Hometown Charity Giveaway on their Facebook page.  From December 8th-19th fans had the opportunity to vote for one of sixty-three local charities or write in an organization of their choice. The three charities with the most votes were declared winners and will each receive $500.
Congratulations to Horse North Rescue located in Grand Traverse County, Leader Dogs for the Blind of Rochester, and the Michigan Animal Adoption Network of Metropolitan Detroit.
Angela Wilgenhof, board member for Horse North Rescue said, "Horse North Rescue would like to thank Credit Union ONE for giving us the opportunity to benefit from the Hometown Charity Giveaway. We are a 100% volunteer run rescue, therefor any money we receive goes to care for the horses. We work with local law enforcement agencies and horse owners to help at risk horses, as well as those who have been abused or neglected. We often get very thin horses who require a lengthy and costly rehabilitation. The $500 we are receiving from Credit Union ONE will help us to continue to pursue our mission. Together we do make a difference".
Credit Union ONE, headquartered in Ferndale Michigan for seventy-five years, offers a wide array of financial services and access to over 30,000 ATM's nationwide, serving 110,000 members, with eighteen offices in three major metropolitan areas, including Metro Detroit, Grand Rapids and Traverse City. For more information go to cuone.org or "like us" on Facebook
Photo:(L To R) Michelle Kilinski-Credit Union ONE Assistant Branch Mgr., Angela Wilgenhof and Laurie Borysiak-Board Members of Horse North Rescue, and Tamara DePonio-Credit Union ONE Branch Manager
---