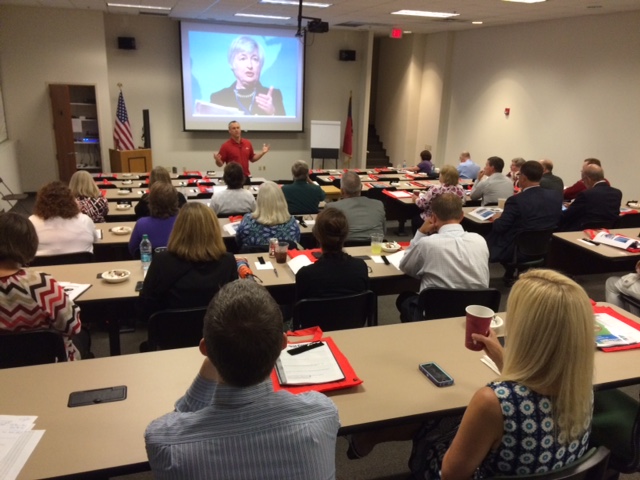 Credit unions focus on the future financial climate
GREENSBORO, NC (June 8, 2015) — First Carolina Corporate Credit Union presented regional credit union management an opportunity to discuss what's needed to crest the coming waves of the Federal Reserve's expected short-term rate increases by hosting a complimentary Lunch and Learn event on Tuesday, June 2nd, at their corporate office, located at 7900 Triad Center Drive, Greensboro, NC 27409.
Fred Eisel, SVP and Chief Investment Officer of First Carolina, discussed the two issues credit unions need to face in light of looming short-term rate increases—investing in a difficult rate environment or dealing with tighter liquidity as loan demand increases. Eisel said, "It now appears the FOMC will not adjust short-term rates until September, at the earliest. If the payroll data comes in strong in the next few months and there is a slight uptick in wage inflation, this will most likely push the Fed to move sooner rather than later. They need to begin to normalize rates."
First Carolina VP of ALM Services Melissa Scott focused on the consideration of Non-Maturity Shares and their importance to interest rate risk. She shared that, "Once your non-maturity share assumptions are developed and reasonable, stress them to identify the risk if you are wrong" requiring the officers to examine their credit union mechanics. "I'm reviewing my Asset/Liability Management plan and making some changes," HeathShare Credit Union CEO Genice Decorte declared. Steve Vaden of CommScope Credit Union said, "In the ALM session, I got a more direct use and application for our benefit as well as education for modeling and examiner questions."
First Carolina Corporate Credit Union is dedicated to being members' primary financial resource. Their primary purpose is to provide member credit unions with opportunities for mobilizing and managing liquidity, financial, and payment system service that enable them to compete and prosper in the financial marketplace. For more information, call (800) 585-4317.
---