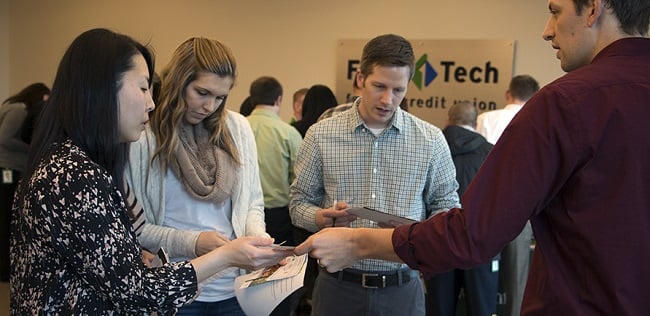 Credit union effect: Volunteerism roots employees in their credit union and community
MOUNTAIN VIEW, CA and KANSAS CITY, MO (June 24, 2015) — Can credit union-wide volunteer programs cut down on employee turnover? Apparently, yes. Just ask the credit unions that have implemented them.
First Tech FCU, based out of Mountain View, Calif., makes volunteering easy for its employees.
The result? Last year, First Tech employees logged more than 18,000 hours of community service, up from roughly 2,400 hours in 2011 when the credit union first started tracking the number.
But it's not only the community that benefits.
Illustrated by an annual report compiled by First Tech, the credit union's staff responds positively to the program, fostering a healthy and vibrant workplace environment, according to the program's leaders.
"Every year our employee satisfaction surveys show that employees are very passionate about the work we do in the community," Chylon Pappas, First Tech director of community engagement, told News Now. "They stay with First Tech specifically because of the work that we do. The ability to go out and use the hours makes our employees feel special."
First Tech, which calls community participation an important part of the employee experience, ensures staff members have every opportunity to get involved.
Maybe the best example of this is the annual Community Resource Fair the credit union puts on. The fair, Pappas said, gives employees the opportunity to learn about organizations with which they can volunteer.
We bring "our charities into our building so they have an ability to talk to our employees, have them understand the impact of … their volunteer hours, what they mean to the community, and get them signed up on the spot to go out there and do some volunteer work," Pappas said.
First Tech also hosts monthly community service days, during which employees wear volunteer shirts and discuss community service activities with members.
"We want our members to know we're here to serve them and the community," said Brad Calhoun, First Tech senior vice president of retail. "The feedback we get is always very positive, and they are surprised to learn we're so active in the community."
Further, the credit union publishes a regular listing of opportunities and encourages employees to visit its internal community service portal, where they can find additional chances to volunteer.
"When we do this, our employees become more connected to the communities they serve, but they also become more connected to the organization–First Tech," Calhoun told News Now.
First Tech isn't the only credit union to recognize the benefits of employing an intensive volunteer initiative.
For the last two years, Mazuma CU, Kansas City, Mo., has offered the "40 Hours of Good" program, through which team members can work a full 40 hours–or a week's worth of time–in the community, and get paid for it each year.
Brandon Michaels, Mazuma president/CEO, told News Now that the credit union decided to give team members 40 hours–as part of a full corporate culture reboot, which also includes ramping up operations of its charitable foundation–to truly demonstrate Mazuma's commitment to the Kansas City area.
Not only does Kansas City benefit, but the program also boosts the credit union's bottom line. Turnover has fallen precipitously since the culture change–down to 8% last year–reducing the costly process of onboarding new staff, Michaels said.
"Some of the research we'd done in the beginning, when we were creating the program, was that people like to stay with organizations that are involved in the community," Mark Thompson, Mazuma assistant vice president/business and community development, told News Now. "They stay a little bit longer, and, quite honestly, from a business standpoint, businesses want to do business with organizations that are giving back to the community as well."
More than half of Mazuma's staff participates in the volunteer program, according to Thompson, and of the more than 7,200 total hours all team members could have volunteered last year, staffers used 1,883 hours, blowing past the credit union's goal.
"What I have seen is a remarkable change in team member attitudes, people are so much happier," Michaels told News Now. "What I hear all the time is, 'Thank you, thank you for giving us this opportunity.'"
Photo captions: Through its credit union-wide Community Resource Fairs, First Tech informs employees about the myriad opportunities they have to volunteer in their communities. Stephen Owen, First Tech chief retail officer, and Tawna Wilkes, community relations specialist, take part in one of First Tech's junior achievement events, stocking backpacks for students.
---