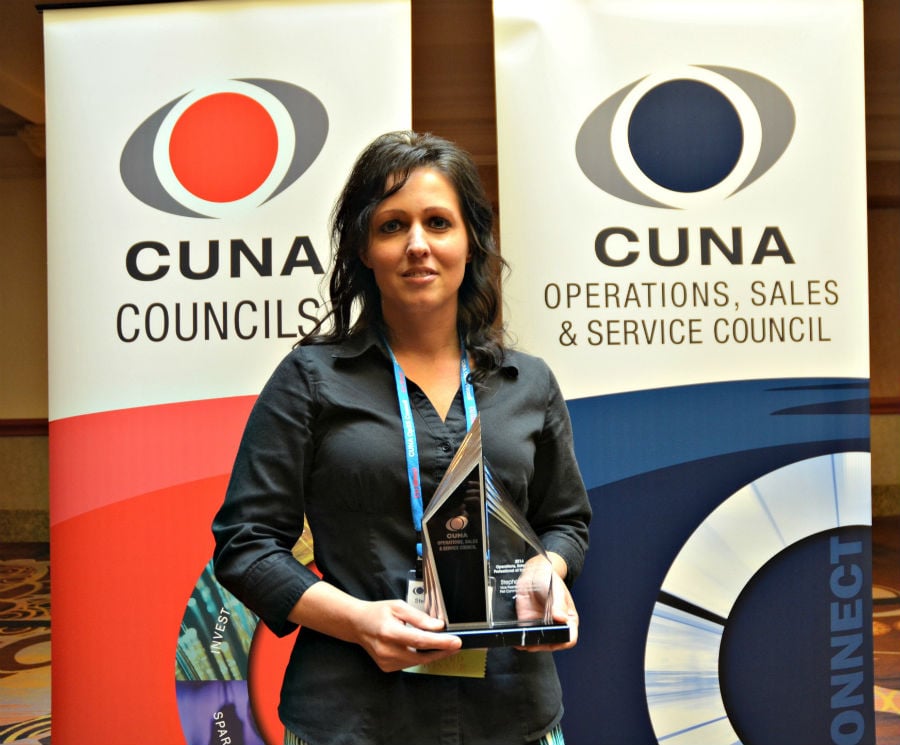 CU executive honored for operations, sales & service achievements
MADISON, WI (September 23, 2014) — This past week, the first-ever Operations, Sales & Service Professional of the Year Award was presented to Stephanie Finck, Vice President of Operations for First Community Credit Union in Jamestown, N.D. Finck was honored for her achievements and dedication to her credit union during an awards luncheon at CUNA Operations, Sales & Service Council Conference, which took place September 21-24 in Las Vegas, Nev.
"It was a really tough choice between all the stellar nominees, but in the end, Ms. Finck's history, attitude and accomplishments clearly shone the brightest," commented Dave Tate, Awards Chair.
Finck was recognized for her achievements in the improvement of First Community's Guaranteed Asset Protection/Auto Deductible Reimbursement (GAP/ADR) sales penetration and the implementation of Kasasa across their member base – as well as its subsequent effect on their checking program. "Kasasa provided a unique win/win solution to make or save the member and the credit union money," stated Finck. Additionally, her sales and service initiative stood out for its depth, well thought-out approaches and full inclusion of front line and back office staff.
As this year's award winner, Finck and her achievements will be featured in an upcoming issue of Credit Union Magazine.
The CUNA Operations, Sales & Service Council Professional of the Year Award recognizes and honors the individual who exemplifies excellence in credit union Operations. This distinction is reserved exclusively for the credit union Operations, Sales & Service elite: who, in all aspects of their chosen profession consistently excel for the benefit of their employer, provide outstanding direction to credit union staff to provide excellent service to their members and are a leader of their credit union culture.
For more information, visit www.cunaopsscouncil.org and select Professional of the Year on the "Events" pull-down menu.
CUNA OpSS Council
The CUNA OpSS Council is a member-led partnership of operations, sales, and service professionals dedicated to providing education, leadership, networking support, professional development tools, and expertise to its members in order to shape the enhancement of the role and diversity of operations in the credit union industry. The CUNA OpSS Council is one of the six organizations that make up the CUNA Councils, a network of more than 6,200 credit union professionals. For more information, visit www.cunaopsscouncil.org or www.cunacouncils.org.
---