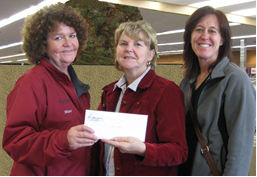 CU Recovery Recognized for Community Fundraising Family Pathways the Grateful Recipient
WYOMING, MN (April 8, 2013) – Giving time and financial support back to the communities where they live and work in is an ingrained part of the CU Recovery/The Loan Service Center company culture.  After a recent month of 'jeans wear' by 63 employees, CU Recovery presented a $1,025.00 check to the Family Pathways non-profit organization in Forest Lake, MN.
Each year, CU Recovery & The Loan Service Center's Jeans for a Cause Committee plans, organizes and leads a number of charitable events involving employee participation.  Opportunities throughout the year to wear jeans to work is a benefit appreciated by many staff members and with a 'pay-to-wear' approach, a good cause is connected to the privilege.  Casual 'jeans' days are even more valued as a result.
Mari Gordon, HR Manager for CU Recovery said, "We know the many ways Family Pathways works year round to provide for local families in need, so this is the perfect opportunity to show our support".  The Family Pathways Development Manager, Lynn sent warm regards with a note of thanks for the generous and gratefully accepted donation.
Family Pathways is a non-profit organization serving east central Minnesota and west central Wisconsin with programs that include basic life services (food shelves, youth services, and senior services.  For more information, visit familypathways.org

CU Recovery, Inc. is a full-service collection agency dedicated to maximizing recoveries on charged off loans. The Loan Service Center, Inc. provides staffing solutions for credit union collection departments for early stage collections to minimize losses on active delinquent loans. The combination creates a comprehensive suite of services exclusively for credit union collections.  For more information visit curecovery.com
---