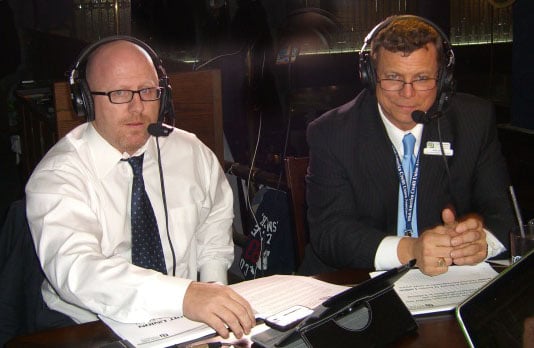 CUAD Advocacy Team Interviewed Live on "Legislature Today"
On January 8th, 2013, the Credit Union Association of the Dakotas' advocacy team of Robbie Thompson, President/CEO and Jeff Olson, VP of Advocacy and Awareness were interviewed for a full hour during the live radio and web broadcast "Legislature Today".
The historic Peacock Alley restaurant and bar in downtown Bismarck, a popular spot for state legislators from both parties, is the setting of the new show, which is scheduled to be broadcast each evening, Monday through Thursday from 7 p.m. to 9 p.m. during this North Dakota legislative session.  CUAD will be the featured guest for one hour each Tuesday from 8 PM to 9 PM.
These weekly live broadcasts are an opportunity to create and promote credit union awareness on a weekly basis, and last night's show was a great beginning.  Topics covered included the credit union structure, the three tiered system, and the history of credit unions.  Stressing that credit unions are "not for profit – but for service", Robbie Thompson was able to explain the differences between credit unions and banks to the listening audience.  Jeff Olson contributed to the interview by discussing the relationship between credit unions and the legislative and regulatory bodies, stating that North Dakota credit unions have a very positive relationship with both.
"With this show, we have a unique opportunity to talk about the credit union difference, to tell our story, to educate listeners and lawmakers on how credit unions make a difference in our communities each and every day," said Olson.
"To be a part this first-ever live weekly multi-media program that features the state's executive and legislative leaders is the perfect vehicle for us to create more awareness of credit unions", added Thompson.
CUAD is one of only four broadcast partners for the show that has been launched by the Backend Beacon, a new North Dakota media company.   The show can be found on KFYR 550 AM, Bismarck, 1100 AM Fargo "The Flag", and KTGO 1090 AM, which covers northwestern North Dakota's oil country.  The radio program will also be broadcast live through web streaming at http://am1100theflag.com/, and will be archived each week and can be accessed at that same web link.
Headquartered in Bismarck, Credit Union Association of the Dakotas (CUAD) is the trade association serving credit unions in the Dakotas.  CUAD serves 77 credit unions in North and South Dakota, serving over 406,000 members, with assets in excess of $4.6 billion.  For more information about CUAD visit our website at www.cuad.coop
---