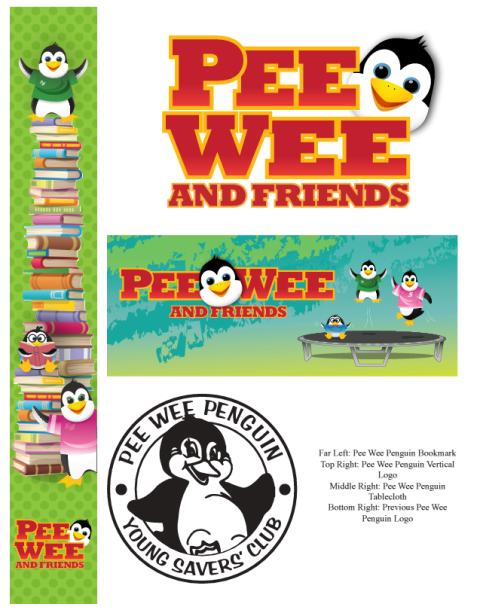 CUAD's Youth Savers Club receives recognition
BISMARCK, ND (March 30, 2015) — When CUAD revamped the Pee Wee Penguin Youth Savers Club – last year, including an entire new logo with added characters, we knew we had a vibrant and appealing new product. Apparently, others in the credit union industry agreed, as the new and improved logo recently received two national awards.
The 2015 CUNA Blockbuster Award for Best Logo Design was received at the Awards Reception during the CUNA-AACUL Communicators Conference on March 23rd in Las Vegas. And, the CUNA Marketing & Business Development Council announced the Diamond Award for Best Logo at their Annual Conference and Recognition Dinner, also in Las Vegas on March 27th.
"We are extremely pleased to receive national recognition for our Pee Wee Penguin Youth Savers Club" stated Robbie Thompson, President/CEO of CUAD. "While keeping the program fresh and relevant so that it appeals to youth members is our primary concern, it is always nice to get approval from our national association," he added.
Are your members excited about your youth program? Do kids love coming to your credit union? Maybe it's time to take another look at Pee Wee Penguin Youth Savers Club. Jared Erling, Account Executive, is ready and able to answer any questions you may have. You can contact Jared at jerling@cuad.coop or 701.250.3992.
About Pee Wee Penguin
The Pee Wee Penguin youth savers program, a division of the Credit Union Association of the Dakotas' Service Corporation, was established in 1988. Since then, Pee Wee has been helping kids to learn about smart savings habits and how they can become financially savvy credit union members.
Visit http://www.cuad.coop/ProductsServices/YouthPrograms/PeeWeePenguin.aspx to learn more about the Pee Wee Penguin program.
Headquartered in Bismarck, ND, the Credit Union Association of the Dakotas (CUAD) is the professional financial trade association serving 75 credit unions in North and South Dakota with assets in excess of $5.5 billion and serving over 461,300 credit union members. For more information about CUAD visit our website at www.cuad.coop.
---