CU*Answers hosts 2nd successful Compliance Symposium
GRAND RAPIDS, MI (September 4, 2014) — AuditLink, the audit and compliance division of the West Michigan-based CUSO CU*Answers, sponsored its second compliance symposium in Grand Rapids, MI. According to AuditLink expert Jim Vilker, "With so much coming out of both the NCUA and the CFPB it is nearly impossible for credit unions to keep up with the volumes of regulatory changes. We designed the symposium to highlight not only the current regulatory environment but summarize the important changes of the last few years." With 23 credit unions in attendance, the day long schedule included an array of informative speakers with key agenda items that include:
Steve Van Beek, formerly of NAFCU and now attorney with Howard & Howard Attorneys PLLC in Royal Oak, MI discussed common credit card issues, upcoming changes to privacy notices, and TILA-RESPA mortgage disclosures
Charles McQueen of McQueen Financial Advisors, Inc., Royal Oak, MI discussed Asset Liability Management
Jim Vilker of AuditLink reviewed NCUA updates
"This symposium was one of the best compliance events I have been to this year", said Carla Bradley, COO of Community West Credit Union. "Each professional speaker was very knowledgeable and did an outstanding job hitting on all the current topics, upcoming changes, and issues specifically related to preparing for the examiners. Attending has definitely helped me with my current compliance related focus as well as preparing for what's coming in 2015."
"The regulatory PowerPoint was designed as an index with links to the specific regulatory information to give the compliance professionals attending a quick reference guide," said Vilker. All the presentations have been published on the AuditLink website and are open to the public http://auditlink.cuanswers.com/ .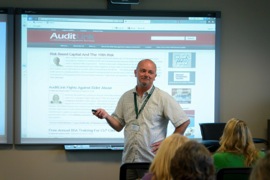 Vilker wrapped up his presentation reviewing the CU*Answers contest revolving around developing a template to account for the cost of compliance. A contest CU*Answers announced in early July http://cuanswers.com/news/Cost_of_Compliance_Standard_Contest_Announcement.pdf .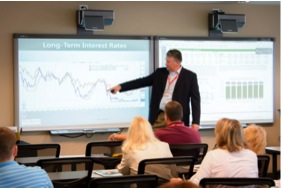 Charles McQueen reviewed the current economic climate along with his experiences revolving around interest rate risk and balance sheet management. "NCUA is very focused on credit unions risk related to interest rates and the effect on earnings", McQueen. He went on to say "Proactive management of your balance sheet is the best way to prepare for rising interest rates".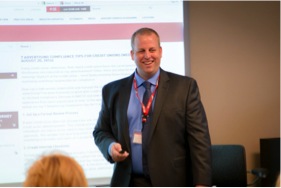 Steve Van Beek rounded out the day with a lunch and learn on the upcoming changes to the production of privacy notices, the 10 most common credit card act issues, and concluded with very large changes to TILA-RESPA. Van Beek stated, "The CFPB's TILA/RESPA Mortgage Disclosure rule is a comprehensive change to credit union mortgage procedures. Credit unions need to establish a game plan to effectively implement these changes by August 1, 2015. And, perhaps most importantly, credit unions need to ensure they have sufficient time to properly test their systems and train their staffs."
About CU*Answers, Inc.
CU*Answers offers expertise in implementing technical solutions to operational needs, and is a leader in helping credit unions form strategic alliances and partnerships. CU*Answers provides a wide variety of services for credit unions including its flagship CU*BASE® processing system (online and in-house) and Internet development services featuring It's Me 247online and mobile banking. Additional services include web development, network design and security, and image check processing. Founded 40+ years ago, CU*Answers is a 100% credit union-owned cooperative CUSO providing services to credit unions representing nearly 1.5 million members and $12.6 billion in credit union assets. For more information, visit www.cuanswers.com.
---