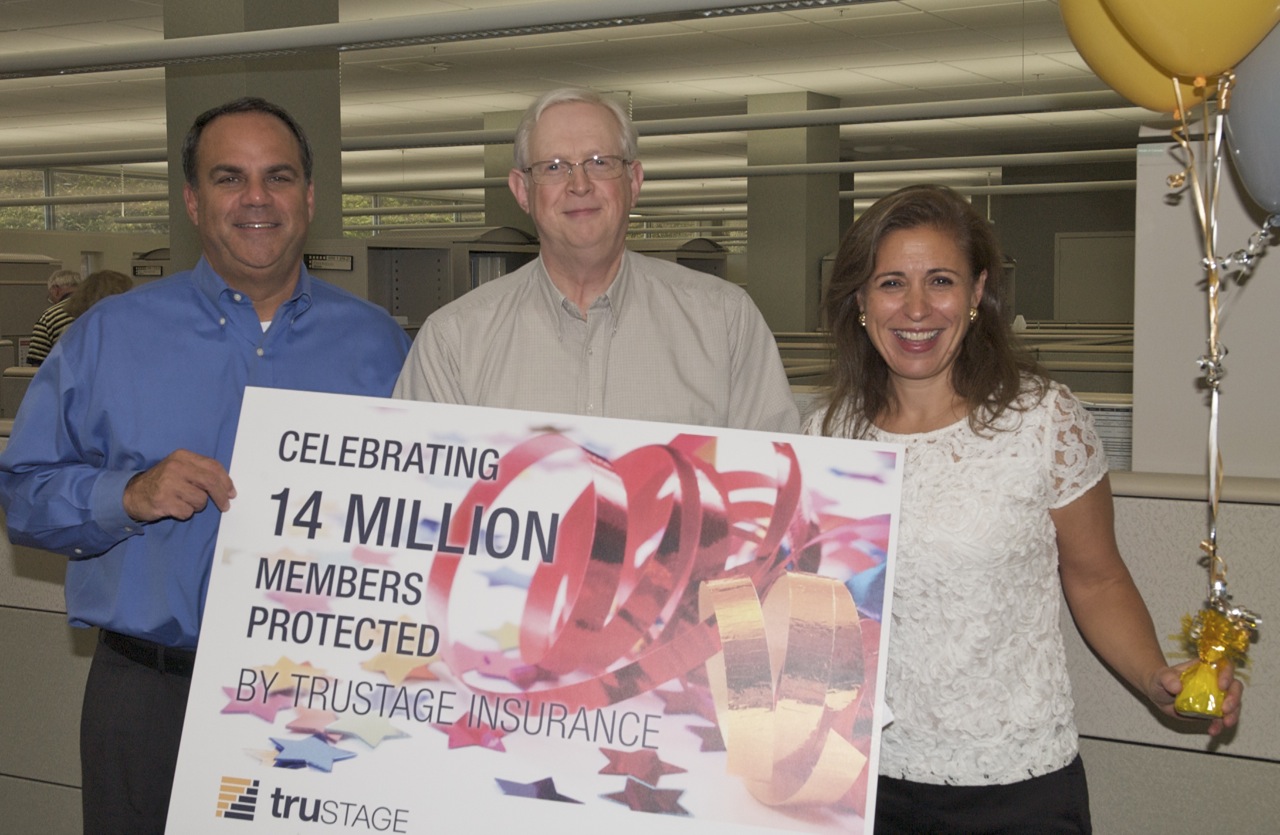 CUNA Mutual Group's TruStage Insurance Now Protecting 14 Million Members
Protection Milestone Coincides With September National Life Insurance Month Celebration
MADISON, WI (September 12, 2013) — CUNA Mutual Group's TruStage insurance program celebrated a significant milestone Sept. 10, as the number of credit union members protected by a TruStage product or program surpassed 14 million.
TruStage insurance empowers credit union members to protect the achievements and aspirations of the people who matter most in their lives. TruStage insurance products and programs include, life, auto, homeowners and accidental death and dismemberment insurance, which are made available to credit union members through CUNA Mutual Group's MemberCONNECT Program.
While protecting 14 million individuals is notable, the opportunity to protect more credit union members is significant, said Susan Sachatello, senior vice president of CUNA Mutual Group's Direct to Consumer division.
The 2011 LIMRA study, "Trillion Dollar Baby Growing Up," reported 58 million households are underinsured. In addition, three in 10 households have no life insurance, and 40 percent of households with children could not meet everyday living expenses if they lost one parent.
"We consider protecting members and their families as more than our business; we consider it our obligation to the credit union movement," Sachatello said. "Protecting 14 million members is a milestone – a moment to celebrate – but it's also a reminder to us that we must continue our efforts to protect even more members."
CUNA Mutual Group staff at the company's Madison and Waverly, Iowa locations paused to commemorate TruStage insurance hitting the 14 million member mark.
The TruStage protection milestone coincides with Life Insurance Awareness Month, a celebration led each September by the Life Insurance Foundation for Education to inform consumers about the importance of life insurance.
CUNA Mutual Group is helping credit unions engage and educate members during Life Insurance Awareness Month by providing credit unions participating in the MemberCONNECT Program an array of educational tools and materials, including an engaging Facebook promotion.
In August, the MemberCONNECT Program celebrated its 30th anniversary. In addition to 14 million insured members, more than 4,000 credit unions participate in the program, which paid more than $727 million in member benefits in 2012, and produced $66 million in non-interest income for credit unions.
To protect more members, CUNA Mutual Group will invest more than $200 million in marketing efforts and new initiatives over the next three years to enhance and expand the program, Sachatello added. "The focus of TruStage is to put the member at the center of our business. By building a compelling and seamless member experience, we are enhancing the relationship between credit unions and their members, thus strengthening the partnership between CUNA Mutual Group and credit unions."
To learn more, follow @CUNAMutualGroup on Twitter, circle +CUNA Mutual Group on Google+, or visit http://www.cunamutual.com/pressroom.
TruStage is a consumer marketing brand of CUNA Mutual Group, a company providing financial security and protection to credit unions and their members worldwide. With more than 75 years of true market commitment, CUNA Mutual Group's vision is unwavering: To be a trusted business partner that delivers service excellence through customer-focused products and market-driven insight. More information about TruStage is available at www.TruStage.com.
TruStage insurance products and programs are made available through TruStage Insurance Agency, LLC and issued by CMFG Life Insurance Company and other leading insurance companies. CUNA Mutual Group is the marketing name for CUNA Mutual Holding Company, a mutual insurance holding company, its subsidiaries and affiliates.
---