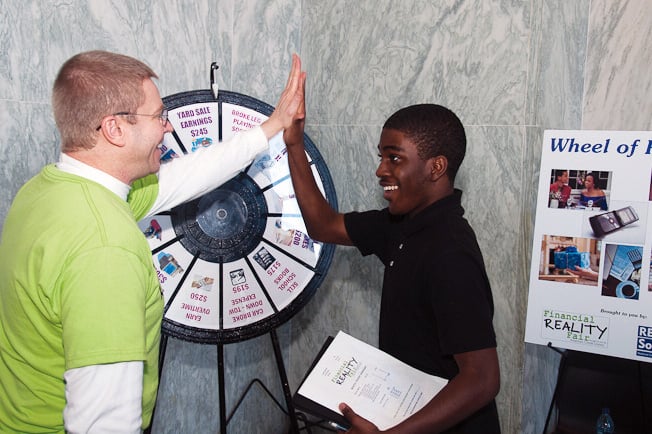 Credit unions encouraged to apply for experiential learning grants
Foundation's annual grant program open June 1-July 15
MADISON, WI (May 27, 2015) — Credit union organizations are encouraged to apply for a Experiential Learning financial grant from the National Credit Union Foundation (the Foundation).
The full call for proposals and grant application can be found here or by visiting ncuf.coop>how we help>grants. Grant applications will be accepted starting June 1 – July 15, 2015.  Funded applications will be for $10,000 or more.
What the Grants Fund
Experiential learning is the process of making meaning from a direct experience.  Research has shown that most people learn best through experiential learning, or "learning by doing," which is why the Foundation will support organizational efforts to start new programs or enhance existing experiential learning programs.
"At the Foundation, we've seen great success across the country with experiential learning financial education programs such as Reality Fairs & Retirement Fairs," said Lois Kitsch, National Program Director at the Foundation. "We want to build on that success and encourage credit unions to submit grant applications to improve people's financial lives through interactive and engaging programs."
The following experiential learning programs are ones that the Foundation has had experience with and are favored:
Reality Fairs– A hands-on financial literacy experience for high school students to learn some of the financial challenges they will face when they start life on their own.
Retirement Fairs– In cooperation with CUNA Mutual Group, the "Route Your Retirement" program has been created, which assists credit union members and staff better prepare for retirement.
Life Simulations– Also known as "Poverty Simulations", this experience is designed to help credit union employees, volunteers, and leaders begin to understand what it might be like to live in a typical low-income family trying to survive from month the month.
Eligibility Requirements
Eligible applicants include credit unions, CUSO's, state credit union associations, state credit union foundations, any other organization owned or controlled by credit unions and other nonprofits.
Grant Timeline
Applications will be reviewed by the Foundations' Grant Committee from July 15 – September 1, 2015, and grant contracts will be signed and disbursed to successful applicants on or around October 1, 2015.  The grant timeline will be for 12 months beginning from the date of the contract.
Questions about experiential learning programs or the grant process can be directed to Kitsch at (407) 616-2409 or lkitsch@ncuf.coop.
About the National Credit Union Foundation (ncuf.coop):
The National Credit Union Foundation (the Foundation) is the charitable arm of the U.S. credit union movement and works as a catalyst to improve people's financial lives through credit unions. Through Foundation grants and programs, credit unions provide widespread financial education, create greater access to affordable financial services, and empower more consumers to save, build assets, and own homes.  Donations to the Foundation enable credit unions to help their members reach life-changing goals and achieve financial freedom.
The National Credit Union Foundation is a 501(c)(3) tax-exempt charitable organization. The Foundation continues to earn the Better Business Bureau seal of approval as an "Accredited Charity" for meeting all 20 BBB Wise Giving Alliance Standards for national charities.
Photo caption: Volunteer Gerry Singleton congratulates a teen after spinning the "Wheel of Reality" at a Foundation Reality Fair held in conjunction with CUNA GAC.
---