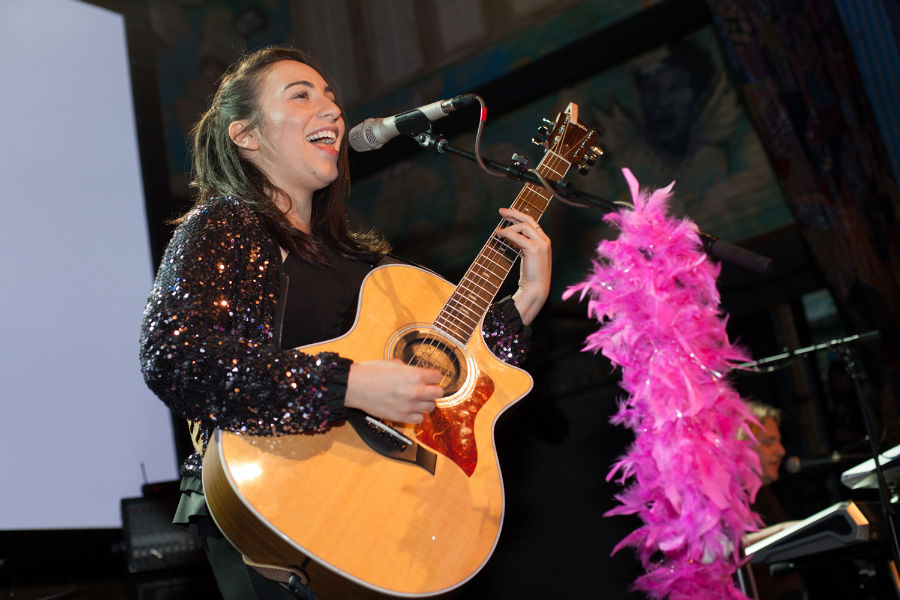 Daria Musk to join July 10 CO-OP webinar on 'Empowering People. Amplifying Dreams'
CO-OP-sponsored Google+ Hangout Concert takes place July 16
RANCHO CUCAMONGA, CA (July 1, 2014) — Singer/Songwriter Daria Musk, spokesperson for CO-OP Financial Services' "Empowering People. Amplifying Dreams" consumer initiative, will take part in a July 10 webinar focusing on the campaign's marketing opportunities for credit unions.
Titled "Empowering People. Amplifying Dreams: Building a National Brand of CO-OP Credit Unions," the one-hour webinar will start at 2 p.m. Eastern time on Thursday, July 10. Credit union employees and others may register for this free webinar at www.co-opfs.org/EmpoweringPeopleWebinar.
"The single greatest challenge to our movement's growth is consumers, especially young consumers, who don't understand what credit unions are, and aren't aware of the national access they provide," said Stan Hollen, President/CEO of CO-OP. "We launched 'Empowering People. Amplifying Dreams' to introduce consumers to credit unions and to the benefits membership can bring, while also offering individual credit unions an exceptional opportunity to attract attention to their brands."
The July 10 webinar will provide details on the campaign and announce ready-made marketing materials from CO-OP designed to help credit unions encourage consumers to make the switch from banks to their institution. Attendees will also be hearing from Musk, the campaign's always-energetic spokesperson and a successful early-implementer of technology as well as a musician.
In addition to the webinar, CO-OP also announced the second in its series of Google+ Hangout concerts by Musk. The concert will take place on Wednesday, July 16, starting at 6 p.m. Eastern Time. "Daria's Hangoutiversary Concert" – being held on the date of her first Hangout concert three years prior – will be one of the marathon, fan-centric performances originating from her home studio that has become her trademark. The link to the concert can be accessed on the day-of-event from the campaign website at www.co-opcreditunions.org.
Musk began to stake out a unique place in pop music in 2011 by performing a live concert via Google+'s video chat feature, Hangout. Since that first concert, Musk now has 3.4 million Google+ followers and she has recorded more than 33 million views.
"Empowering People. Amplifying Dreams" was announced by CO-OP at its THINK 14 Conference in May to help credit unions attract new members from the ranks of Gen Y (Millennial) consumers.  The www.co-opcreditunions.org website includes "Find a Credit Union," a directory for consumers to initiate their search for a credit union. The CO-OP campaign is also supported by an array of paid advertising and marketing; public and media relations and events; and promotion through Facebook, Twitter and other social networks.
For more information, visit www.co-opcreditunions.org.
About CO-OP Financial Services
Based in Rancho Cucamonga, Calif., and founded in 1981, CO-OP Financial Services is the nation's largest credit union service organization in terms of number of credit unions, assets and members. The company helps credit unions thrive by providing products and services that make it more convenient for members to do business with them. With a motto of "Be There. Be More," CO-OP's products fall into three business lines, including "Locations," (ATM, shared branching and call center services); "Card Payments" (debit and credit processing) and "Mobile/Virtual" (mobile, online, check imaging, bill pay services). To learn more visit www.co-opfs.org.
---