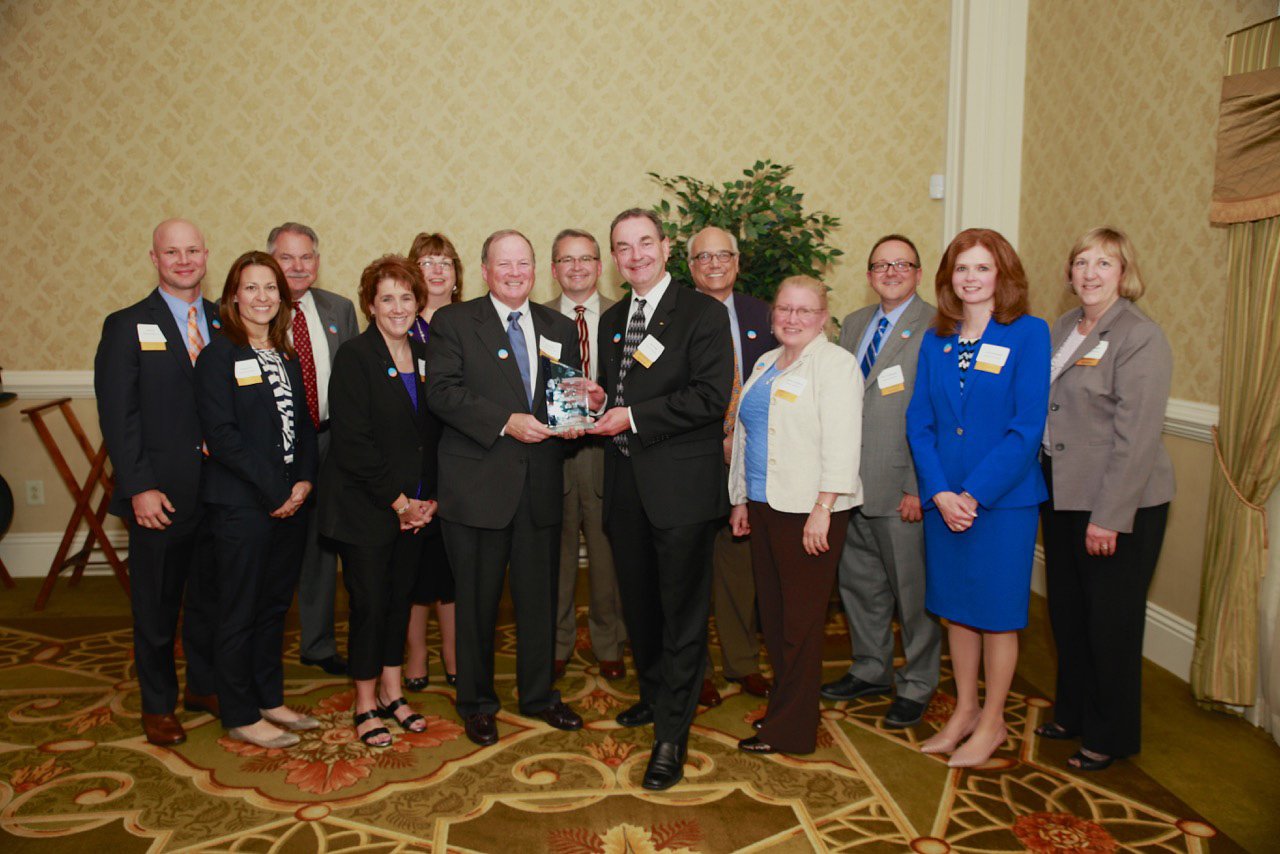 Diamond Credit Union Named Top Business by the Tri-County Area Chamber of Commerce
(May 22, 2015) — On Thursday, May 21, the Tri-County Area Chamber of Commerce (TCACC) held their Annual Dinner at Rivercrest Golf Club in Phoenixville, Pa. During the ceremony, John Faust, President/CEO of Diamond Credit Union was presented with the Business/Enterprise of the Year Award by Heather Chandler, Chairman of the TCACC Board of Directors. Diamond was chosen to receive the award because of their commitment to the local community and dedication to stimulating growth in the Tri-County Region. As part of the presentation, the Chamber aired a short video, created by Dan O'Connor of Polaris Productions, which can be viewed here: https://www.youtube.com/watch?v=9B1vg-nR3to&feature=youtu.be
"On behalf of the entire staff and board of Diamond Credit Union, I am honored to receive this award. Our team truly believes in a concept we call 'younity' which relates to giving back to the local community, providing excellent service, and providing our entire region with the financial tools they need to succeed. This recognition reinforces our belief that we are making a difference," stated John Faust, President/CEO of Diamond Credit Union.
TCACC also recognized Adam Burke of Lily's Grill with the Entrepreneur of the Year Award, and Dr. Karen A. Stout, President of Montgomery County Community College, with the Andrew J. Paravis Excellence in Local Government and Education Award.
J. Glenn Ebersole, Jr. of Hollenbach Contruction was named Volunteer of the Year, and Carrie Robinson of Schultz Technology was named Ambassador of the Year.
Inspiring financial success and community involvement throughout our region…That's younity.
Diamond Credit Union is the 18th largest credit union in Pennsylvania and is headquartered in Pottstown, Pa., with four additional offices. Diamond serves Berks County and the Tri-County Region and holds over $475 million in assets with over 52,000 members. To learn more about Diamond, please visit www.diamondcu.org, or visit us on Facebook or Twitter.
Photo Caption: Members of the Diamond Credit Union staff and board pose with the Business of the Year Award. From left to right: Phil Fry, Chelsea Fry, James Hufford, Sandi Chieffo, Beth Walton, Patrick Austin, Todd Rothenberger, John Faust, Gary Yost, Marcia Levengood, Paul Yacobowsky, Lori Levengood, and Marty Gallagher. Photo credit: Dan O'Connor Video and Photography
---