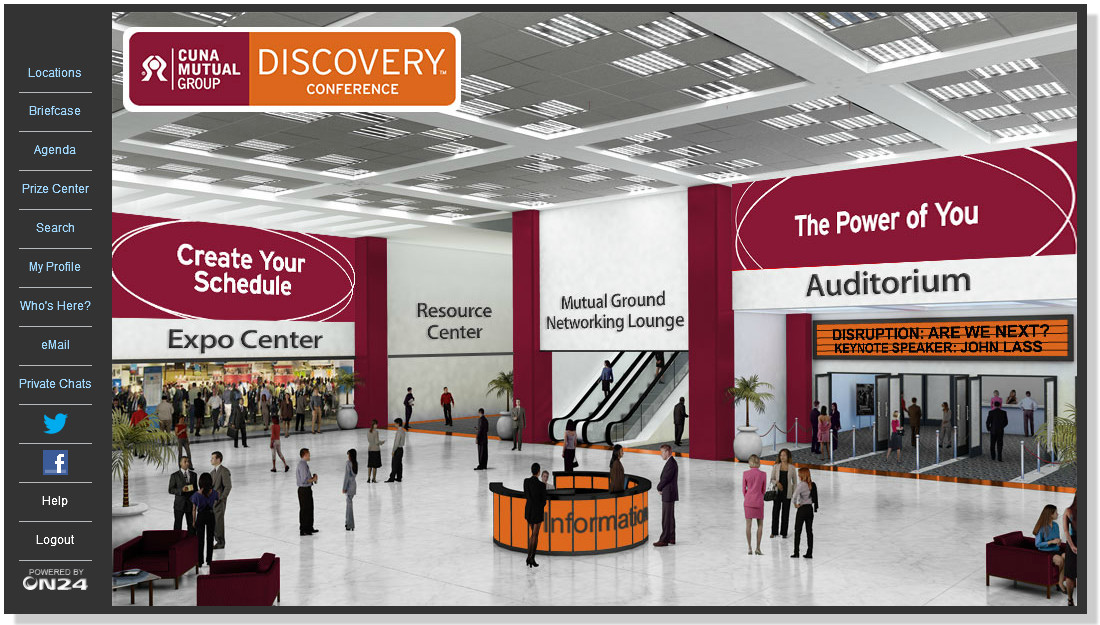 Discovery Conference leads credit union industry in online learning
CUNA Mutual Group's Free, Virtual Event Drew More Than 2,100 Registrants 
MADISON, WI (October 29, 2014) — CUNA Mutual Group's 5th Annual  DiscoveryTM Conference brought a full day of online, free learning to more than more than 2,100 registered credit union professionals on Oct. 15.
From the convenience of their offices, attendees from credit unions, leagues, associations and CUSOs, received a full day of virtual learning on topics that will help them remain relevant to members, manage compliance risk and drive growth.
"Discovery Conference attendees love being able to control their day, content, and experience all without leaving their desk. It's easy to participate and learn," said Christy LaMasney, Discovery Conference manager. "And, the virtual environment encourages multiple people from the same credit union to attend, without worrying about expenses and time away from the office."
Discovery is CUNA Mutual Group's annual online learning event that attracts a national and international credit union audience. In addition to providing business-relevant learning through breakout sessions, attendees are able to visit booths and network with peers from the comfort of a computer, without expense or time away from the office.
For those unable to attend the Oct. 15 event, or someone wanting to revisit the learning experience, access to the conference material is available until June 30, 2015. "It's not too late to benefit from Discovery's full complement of content," said LaMasney. "Credit union professionals can access the conference on demand, at no cost, by simply registering."
Registration after the live event, allows participants to view or revisit all of the credit union-focused sessions, download all conference materials, visit the expo center and network with hundreds of peers by exchanging virtual business cards for up to nine months at no expense.
The conference's show prize winner was Nancy Wyatt, loan manager, Vantage Federal Credit Union. She won a free registration to the 2015 America's Credit Union Conference (ACUC) and World Credit Union Conference in Denver, Colo., along with $1,000 for travel expenses. The show prize winner was randomly drawn from a list of attendees who acquired show prize points through active participation in the conference.
More than a dozen other participants were awarded prizes. Winners were randomly drawn from entries at the Expo Center booths.
To register on demand, visit www.cunamutual.com/RegisterNow
Discovery Conference by the Numbers:
The average attendee spent more than 181 minutes at the conference;
The most visited event was John Lass' keynote address on "Disruption" with 522 attending;
The most visited breakout session was Steve Rick's presentation on the economy with 329 viewers;
Nearly one-third of participants attended at least one scheduled chat;
Participants viewed nearly 5,000 documents while attending.
CUNA Mutual Group was founded in 1935 by credit union pioneers, and our commitment to their vision continues today. We offer insurance and protection for credit unions, employees and members; lending solutions and marketing programs; TruStageTM-branded consumer insurance products; and investment and retirement services to help our customers succeed. More information is available on the company's website at www.cunamutual.com.
CUNA Mutual Group is the marketing name for CUNA Mutual Holding Company, a mutual insurance holding company, its subsidiaries and affiliates. Life, accident, health and annuity insurance products are issued by CMFG Life Insurance Company. Property and casualty insurance products are issued by CUMIS Insurance Society, Inc. Each insurer is solely responsible for the financial obligations under the policies and contracts it issues. Corporate headquarters are located in Madison, Wis.
---