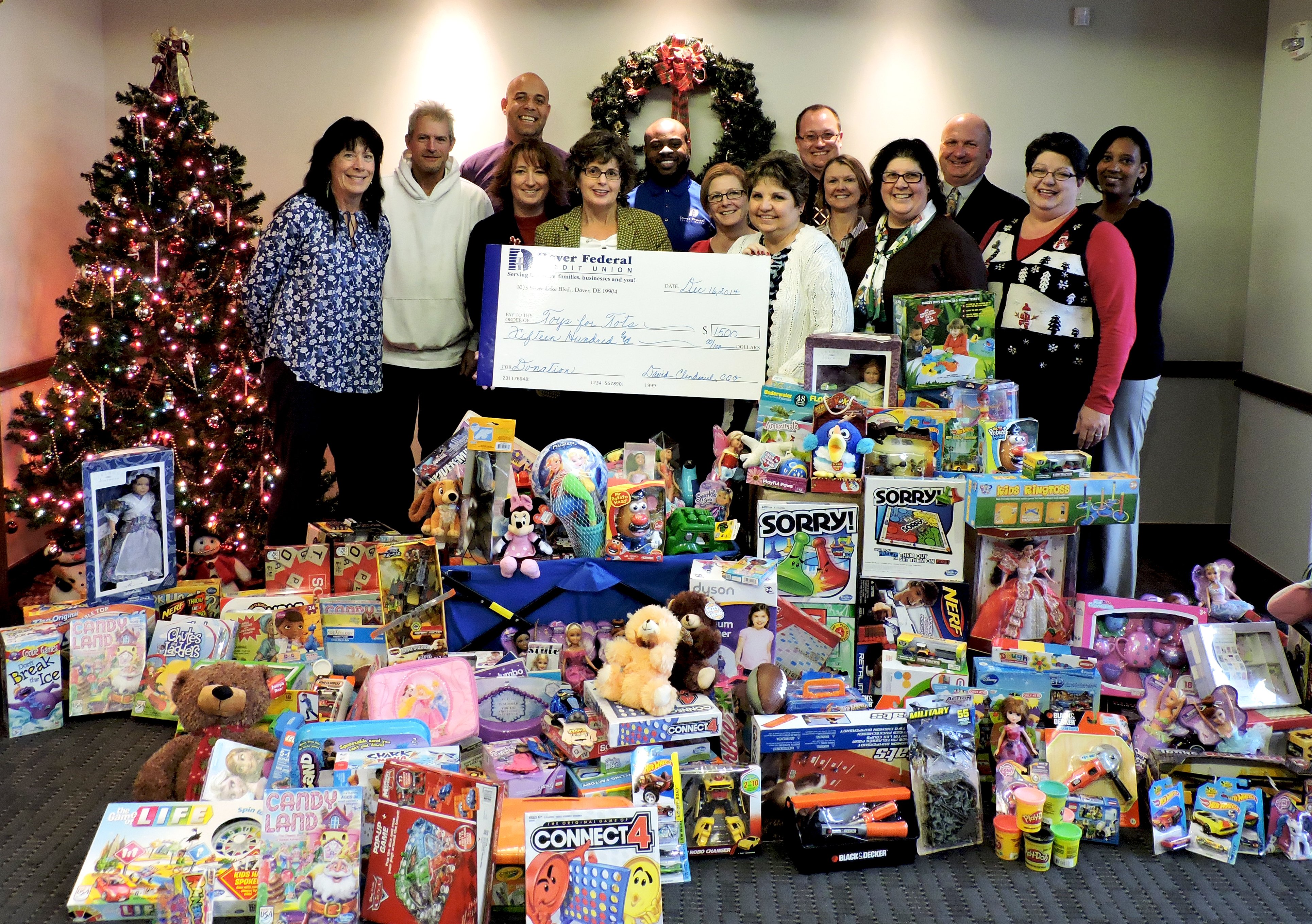 Dover Federal donates toys to "Toy for Tots"
DOVER, DE (December 23, 2014) — Dover Federal Credit Union is proud to announce its participation in the annual 'Toys for Tots' toy drive, a program that helps the Marine Corps collect and distribute toys for less fortunate children in our community.
Dover Federal collected un-wrapped toys and monetary donations at all of their branch locations statewide. The combined efforts of employees and Dover Federal members raised $1,500 and many large bins filled with toys for children for the holidays. Toys for Tots is a program put on by the Marine Corps Reserves, we were glad to join them for this great cause.
When asked about the Credit Union's participation, David Clendaniel, Dover Federal's President and CEO, said. "We couldn't be more pleased by this opportunity to contribute to families for the holidays and be able to put smiles on the faces of children. We are proud of our employees' continued effort and support for our community."
Dover Federal Credit Union
First chartered in 1958, Dover Federal Credit Union is the largest credit union in the state of Delaware, with a membership of over 39,000. Dover Federal has offices in Smyrna, New Castle, Milford, and Dover, including one at Dover Air Force Base. Dover Federal proudly serves the military and Delaware families, businesses and you. More information can be found on Dover Federal's website, at www.doverfcu.com or by calling 302.678.8000.
Toys for Tots
The mission of the U. S. Marine Corps Reserve Toys for Tots Program is to collect new, unwrapped toys during October, November and December each year, and distribute those toys as Christmas gifts to less fortunate children in the community in which the campaign is conducted. The primary goal of Toys for Tots is to deliver, through a new toy at Christmas, a message of hope to less fortunate youngsters that will assist them in becoming responsible, productive, patriotic citizens.
Pictured left to right: Karen Simpson, Joe Grossman, Richard Buckner, Heather Shupe, Belinda Burke, Austin Brown, Jackie Cesere, Anne Donahue, Chaz Rzewnicki, Bettie Campbell, Brigitte Gavas, David Clendaniel, Holly Aragon, Donise Cottman
---