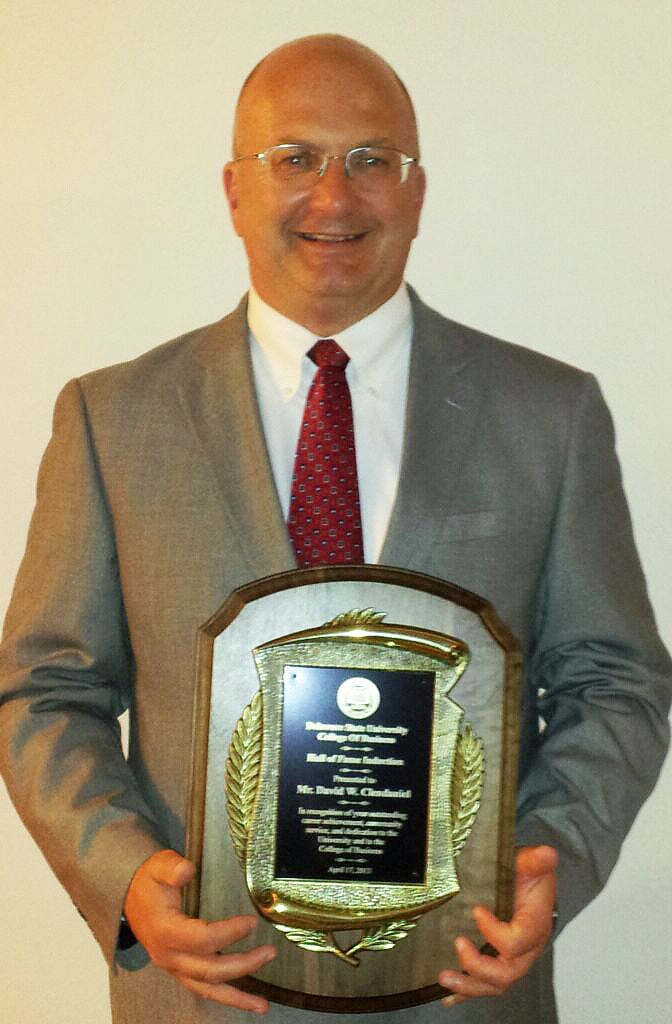 Dover Federal President and CEO David Clendaniel Honored
DOVER, DE (May 16, 2013) Dover Federal Credit Union is proud to announce that David Clendaniel, President and CEO of the Credit Union, has been named as a 2013 inductee into Delaware State University's College of Business Hall of Fame. Mr. Clendaniel, along with fellow inductees Carrie R. Dennis-Mayer and Philip G. Sadler, Jr., was honored at an awards ceremony held at the Martin Luther King Jr. Student Center at the University on the evening of April 17.
The prestigious honor serves as recognition of Mr. Clendaniel's position in the business community and of his successful leadership of Dover Federal, Delaware's largest and most respected credit union. Mr. Clendaniel has worked in the financial services industry for over 30 years, and has been with Dover Federal for over 20 of those years. He served in a number of executive positions at the Credit Union before being appointed to the position of President/CEO in February 1997.
In addition to his role with Dover Federal Credit Union, Mr. Clendaniel is active in the community and in local and national business associations. He currently serves on the Advisory Council for the Delaware State University College of Business, Government Affairs Committee of the Delaware Credit Union League, the Federal Credit Union Subcommittee of the Credit Union National Association, the Legislative Committee of the National Association of Federal Credit Unions, and the Research Council for the Filene Research Institute. Mr. Clendaniel also serves as president of the CenDel Foundation, as well as being a member of the Greater Dover Public Policy Committee.
"I am greatly honored to have been inducted into Delaware State University's College of Business Hall of Fame," said Mr. Clendaniel. "I am so lucky to have the opportunity to serve the Delaware community through my work at Dover Federal. I am doubly grateful to be recognized in this way by my colleagues in the business community. It is truly an honor."
First chartered in 1958, Dover Federal Credit Union is the largest credit union in the state of Delaware, with a membership of 38,360 Dover Federal has offices in Smyrna, New Castle, Milford, and Dover, including one at Dover Air Force Base. Dover Federal has proudly served the military and Delaware families for over 50 years. Dover Federal now serves the small business community. More information can be found on Dover Federal's website, at www.doverfcu.com.
---