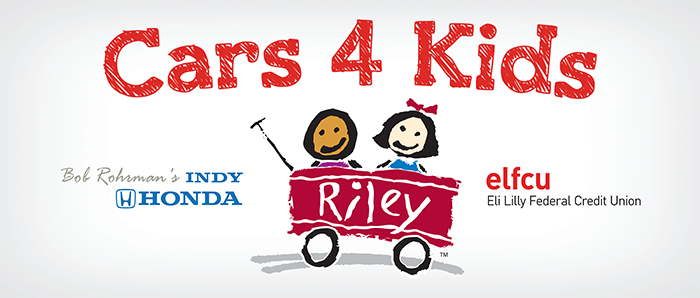 Drive Home a Car with a Cause
Elfcu, Indy Honda & Members Auto Source Join Forces to Get Consumers into New/Used Vehicles While Supporting Riley Children's Foundation
INDIANAPOLIS, IN (July 26, 2013) — Need a new vehicle this summer? Let us inspire you to act.
Beginning today through August 30, when a consumer finances or refinances a vehicle through Elfcu, they'll enjoy the multiple benefits of lower monthly payments and a $75 charitable gift to Riley Children's Foundation.
To double that impact, the buyer can purchase from Indy Honda, 8455 U.S. 31 South,
Indianapolis, IN, and finance through Elfcu and the charitable gift to Riley Children's Foundation will double to $150.
This offer is available only July 26 through August 30!
To apply for financing, visit elfcu.org now or call (800) 621-2105, option 1.
Cars 4 Kids Sales Events
Visit Indy Honda and get guidance from Members Auto Source, Elfcu's auto buying partners, about your summertime vehicle purchase. These partners are working together with Elfcu to present a series of Cars 4 Kids Sales Events on four Saturdays in August.
Indy Honda, Members Auto Source AND Elfcu will contribute to Riley Children's Foundation for every vehicle sold and financed through Elfcu during these special sales.
Event Details
Four Saturdays in August
August 3, 10, 17 & 24
10:00am – 3:00pm
Indy Honda
8455 U.S. 31 South
Indianapolis, IN 46227
Sales: (317) 538-3822 — ask for Jeremy Nowling
Visit the lot for a new or used vehicle, expert auto buying guidance from Members Auto Source and competitive financing — all to benefit Cars 4 Kids for Riley Children's Foundation!
If you're not in the market for a vehicle, ask Elfcu about refinancing your auto loan from another institution. Any member may also contribute directly to this cause by making a cash donation at an Elfcu branch or by calling the Member Contact Center: (800) 621-2105.
Maximum Elfcu donation of $16,500 represents 220 financing contracts either direct to the member or through Indy Honda. This total does not include matching funds from Indy Honda, Members Auto Source and CO-OP Network.
More About Elfcu
We provide a variety of powerful financial products and services through the safe harbor of a consumer-owned credit union. Yet Elfcu is not just a credit union. We are financial wellness providers who promise to help you achieve financial wellness in life with your own money management plan. We will nurture you toward your goals and engage you with the tools and resources that best fit and support your plan. Elfcu will always be looking out for your best interests. Join us and 66,000+ fellow members today at elfcu.org as we pursue the goal of financial wellness.
More About Indy Honda
Bob Rohrman Indy Honda, located in Indianapolis, Indiana, is your premier retailer of new and used vehicles. Our dedicated sales staff and top-trained technicians are here to make your auto shopping experience fun, easy and financially advantageous. Please utilize our various online resources and allow our excellent network of people to put you in your ideal car, truck or SUV today!
More About Members Auto Source
Members Auto Source, LLC's mission is to provide a professional, painless and cost effective way to purchase or lease a new or pre-owned vehicle. Our goal is to make the consumer feel they were given all of the information available in order to make a good buying decision. Visit them at membersautosource.net.
More About Riley Children's Foundation
Riley Children's Foundation supports Riley Hospital for Children at Indiana University Health, Camp Riley and the James Whitcomb Riley Museum Home. As Indiana's only comprehensive hospital dedicated exclusively to the care of children, Riley Hospital has provided compassionate care, support and comfort to children and their families since 1924. Each year children from all 92 Indiana counties turn to Riley Hospital and its regional clinics throughout the state more than 230,000 times. Riley Hospital's partnership with IU Health and its strong affiliation with the Indiana University School of Medicine make Riley Hospital for Children the leader in pediatric care in the state and the region. RileyKids.org  
---