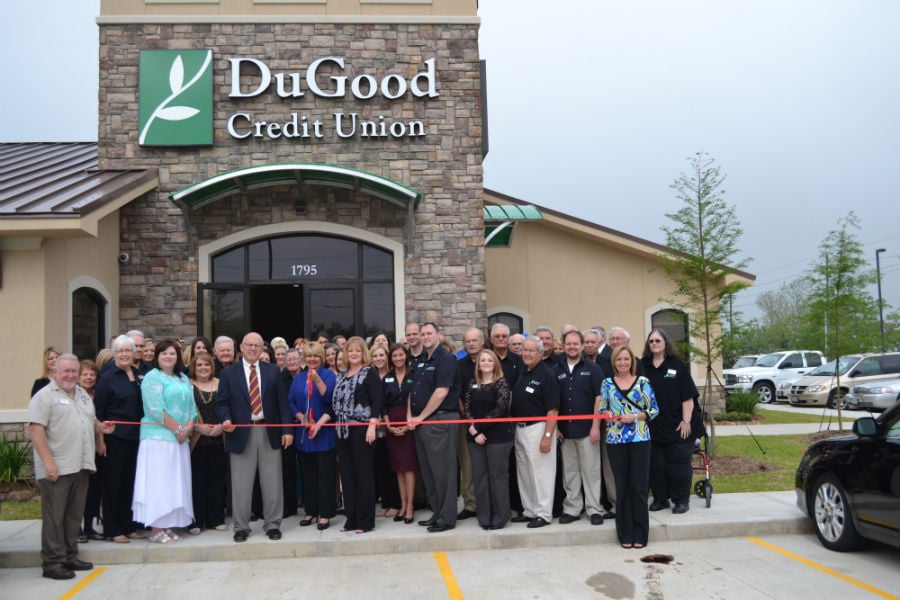 DuGood Credit Union grows closer to members with new location
BEAUMONT, TX (May 7, 2014) —
Convenience for members… that's what motivated DuPont Goodrich Federal Credit Union (DuGood) to open its newest branch on North Major Drive, in Beaumont.
In celebration of its 10th location, DuGood hosted a weeklong grand opening on April 21 – 25.  Members enjoyed refreshments, daily giveaways and drawings to win items like an iPad 2, Kindle Fire HDX, $250 spa certificate, gas grill and more.
DuGood hosted a ribbon cutting ceremony on April 23 and welcomed a crowd of about 250 people.  Guests included the mayor, Chamber of Commerce, business and community partners, members and local radio personalities.
At over 9,000 square feet, the Major Drive branch is the largest to date. Members visiting the branch will have access to an on-site Financial Advisor and the credit union's new full service Lending Center, where they can take care of personal, mortgage and business loans all in one place.
Other amenities include hand activated safe deposit boxes, five-lane drive thru and ATM.
"We believe in opening neighborhood branches, close to the places our members live and work," President and CEO Jada Kelley said.
"Twenty-five percent of our membership lives in the west end.  They've been asking for this and we're excited to offer another convenient location to better serve them."
DuGood's new branch is located at 1795 N. Major Drive in Beaumont.  For more information, visit www.dugood.org.
---