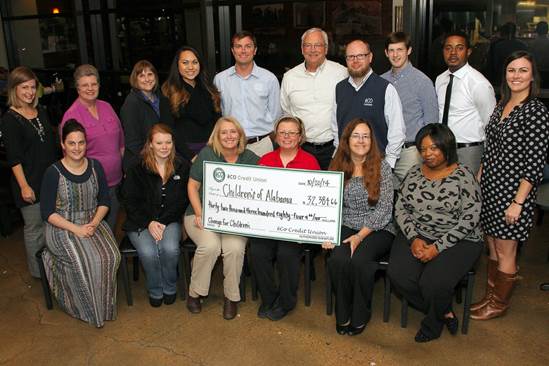 eCO Credit Union helps make miracles for Children across Alabama
With the help of members, schools, and sponsors, eCO Credit Union raised more than $32,000 for Children's of Alabama.
BIRMINGHAM, AL (October 22, 2014) — eCO Credit Union is founded on the principle of giving back to educators and the community. Over the last five years, eCO has continued to see its annual fall fundraiser for Children's of Alabama grow. During the 2014 Change for Children's fundraiser, eCO employees, members, and the community joined together to raise more than $32,000 for Children's of Alabama. This brings the total contributions to Children's of Alabama, through eCO fundraisers, to more than $146,000!
Schools and local businesses displayed Change for Children's cans to collect spare change. Bottenfield Middle School, Centerpoint High School, Clay Elementary School, Fultondale High School, Gardendale High School, Greenwood Elementary School, Pleasant Grove Middle School, and Rudd Middle School actively participated in the 2014 fundraiser.
"It is exciting to see schools, teachers, and especially, students get excited about supporting such a great cause," said Melissa Reeves, eCO Marketing Manager. "The students really connect with the idea of raising money for their peers and find creative ways to give back."
eCO employees fundraised in branches with Change for Children's t-shirts and traditional Children's Miracle Network balloon sales. The employees' excitement about raising money to support Children's of Alabama helps drive fundraising efforts, and eCO members have continually proved their generosity and willingness to give back to the community. Vendors, friends, and family were also invited to donate through a donor drive website.
"The continual growth of eCO's Change for Children's fundraiser displays our deep commitment to improving the community we serve," said eCO CEO, Joey Hand. "Children's of Alabama is a vital part of our city and state, and we are proud to support them."
On October 20, Taziki's hosted a celebration for fundraisers. The top fundraisers and teams were honored, and the funds raised were presented to Children's of Alabama.
About eCO Credit Union
eCO Credit Union is a not-for-profit, democratically controlled financial cooperative, which exists solely to provide safe, cost-efficient and personal financial services to its members. eCO Credit Union was founded in 1939, and today has over 13,600 members and over $120 million in assets. eCO proudly serves members in Jefferson, Shelby, Cullman, Walker and Blount counties. Additional information about eCO and its line of products and services can be found at www.ecocu.org.
About Children's of Alabama:
Children's of Alabama has provided specialized medical care for ill and injured children since 1911, offering inpatient and outpatient services throughout central Alabama. Last year, families made more than 670,000 outpatient and nearly 14,000 inpatient visits to Children's from every county in Alabama and from 41 other states and four foreign countries. With more than 2 million square feet, Children's is the third largest pediatric medical facility in the U.S. and has been ranked among the top children's hospital programs in the country for the past four years by US News & World Report. More information is available at www.childrensal.org.
---