Educational Community Credit Union annual meeting highlights
KALAMAZOO, MI (April 23, 2015) — Educational Community Credit Union (ECCU) held its 80th Annual Meeting at WMU Fetzer Center on Saturday, March 21, 2015. Noteworthy accomplishments for the past year include the expansion of the Commercial Services department and approval for SBA Express Lending, enhancements to the Consumer Lending department to include tools that allow members to close loans quickly and remotely, and the, installation of a deposit taking ATM on WMU's campus.
Incumbents re-elected to the Board of Directors for three-year terms Robert Goodwin and Barbara Winter.
During the business meeting, former ECCU President and CEO, Charles Cornelius, was honored with the 2015 James E. Fetterolf Distinguished Service Award in recognition of 35 years of extraordinary credit union service. Chuck fully exemplifies the credit union philosophy of "people helping people" and the ideal stated on the award plaque, "The Ultimate Worth of a Person is in Service to Others."
When Chuck began his career with School Employees Credit Union as a loan counselor in 1979, the credit union had $15 million in assets and 15 employees. Over the years, Chuck served in increasingly responsible positions and was named ECCU's President/CEO in 2005. Under his direction, the credit union renovated and expanded the main office on 9th Street, built a new Gull Road branch, and expanded its presence in Southwest Michigan, opening offices in Paw Paw and Lawrence. Chuck oversaw the expansion of ECCU to a community charter in our 21 counties. He also introduced the member rewards program, and led the credit union to invest in technology to enable members to conveniently access financial services. Chuck is proud that even during the financial crisis and great recession, ECCU achieved a positive bottom-line, and continued to provide outstanding member service.
Under Chuck's watch, ECCU grew to over $419 million in assets, with 142 employees. In 1995, Chuck received an honorable mention as "Operations Professional of the Year" from the Credit Union Executives Society.
Members also had a chance to give a warm welcome to ECCU's new President and CEO, Julie Blitchok, who took the helm of the credit union on March 2, 2015. Julie is the fourth chief executive in ECCU's 80-year history and most recently served as Senior Vice President of Retail Operations for Lake Michigan Credit Union in Grand Rapids, Mich.
After the business meeting concluded, ECCU's 80th Anniversary Celebration continued with a performance by Blue Man Group at Miller Auditorium. Blue Man Group combines music, technology and comedy to create a form of entertainment that defies categorization and appeals to people of all ages.
About ECCU
Established in 1935, ECCU has grown from serving only Kalamazoo school employees, to serving the greater educational community, to now providing a full range of financial products and services to anyone who lives, works, worship or attends school in any of our 21 Michigan counties. The credit union exceeds $419 million in assets and serves more than 37,000 members. Visit eccu1.org to learn for yourself why ECCU just feels right, and our members feel right at home.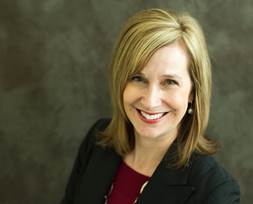 Photo caption: ECCU President & CEO Julie Blitchok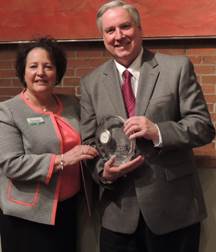 Photo caption: Charles Cornelius receives the 2015 James E. Fetterolf Distinguished Service Award honoring 35 years of outstanding credit union service.
---