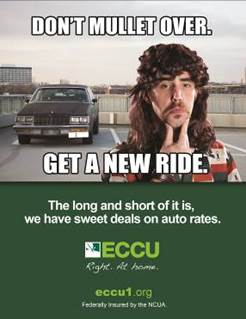 Educational Community CU captures Gen Y loan market with its 'Get a New Ride' campaign
KALAMAZOO, MI (November 18, 2014) — Educational Community Credit Union (ECCU) ventured that members were ready for something new with its recent 'Get a New Ride' vehicle loan campaign. Rather than a typical rate-driven campaign, 'Get a New Ride' used unabashed humor, fresh bold graphics, and copy designed to appeal to a younger, Gen Y market.
"To appeal to a younger audience, we decided to depart from our traditional approach," says ECCU Marketing VP Christine Camp. "We wanted something unique, not cliché and not focused on rate. Our goal was to create an eye-catching campaign that would cut through the clutter, and emphasize member benefits." The gamble paid off for ECCU with more than $8.1 million disbursed in new and used vehicle loans during the 10-week promotion period. In all, 558 loans were made at a median rate of 2.99% APR averaging $14,521 per loan.
"With an edgier feel designed for a less conservative audience, it was interesting to watch members react to the concept," says ECCU CEO Chuck Cornelius. Members spoke to Cornelius about the creative throughout the campaign, and some wondered about ECCU's change in direction. "I explained that its very success was because people were talking about it. And that's the objective for any successful campaign."
Running March 18-May 31, 2014, the campaign drove loan demand and exceeded ECCU's original loan goal by $1 million. "Perhaps even more important is the buzz it created, and how much fun members and staff had in relating to the visuals," reflects Camp. Humorous memes brought the campaign to life and copy was targeted to Gen Y, those born 1979-1999. "The originality of the art was deliberately outrageous," says Camp.
Captions with familiar white block lettering plus galvanizing, comical photos were consistent with the design of each meme. (According to Merriam-Webster, memes are an idea, behavior, style, or usage that spreads from person to person within a culture.)
While an ad agency did assist initially, ECCU eventually developed all of the memes internally. "We ultimately chose and purchased the photos on our own," says Camp. The brainstorming sessions were particularly dynamic. "Taking a completely different approach, we devised a scheme involving mullets, motorcycle grannies, and sweat-band wearing travelers!"
Playful captions, such as 'Don't Mullet Over,' Get a New Ride,' and 'Perk Up Buttercup,' were an ideal complement to the graphics as well. "Gen Y was our initial target for the promotion," continues Camp. "But what we didn't anticipate was the successful spill over to other segments, including Gen X." Of the 558 loans closed, 34% (191) were Gen Y and 28% (157) Gen X.
To drive demand in a competitive West Michigan market, ECCU placed five billboards totaling 900,000 views. Radio coverage included WKFR (Top 40), WRKR (Classic Rock), and 102.5 Great Country. Website banners, the quarterly newsletter, point-of-sale in lobbies, social media ads, and member emails were all part of the mix.
"The memes were especially successful with social media and the groups we were targeting," adds Camp.
ECCU's Vehicle Loan Comparison by Age

(During the period of March 18 – June 10)

Members' Birth Year
                    2013
              2014
      Increase
Gen Y (1979-1999)
123 loans
191 loans
  55%
Gen X (1965-1978)
104 loans
157 loans
  51%
Boomers (1946-1964)
162 loans
173 loans
  7%
Traditionalists (1922-1945)
  43 loans
  37 loans
  n/a
Standout creative is essential to any successful marketing campaign, but even more important is member satisfaction. "Members identified with the memes, and staff loved the concept," adds Cornelius. "We also had everyone talking about it which is what you want with every campaign."
With seven convenient locations, ECCU is a full-service financial institution serving anyone who lives or works in a 21-county area in West Michigan. For details on credit union membership, visit www.eccu1.org.
About ECCU 
Established in 1935, ECCU has grown from serving only Kalamazoo school employees, to serving the greater educational community, to now providing a full range of financial products and services to anyone who lives, works, worships or attends school in any of our 21 Michigan counties. The credit union exceeds $412 million in assets and serves more than 37,000 members. Visit eccu1.org to learn more about membership and why ECCU just feels right, and our members feel right at home.
---