Endurance FCU awards teacher grant
DUNCAN, OK (September 22, 2022) — Endurance Federal Credit Union in Duncan, OK awarded one of their local teachers with $1000 worth of curriculum and supplies for their classroom as a part of their Teacher Grant Program.
This year's recipient, Stacy Smith, is the Gifted and Talented Coordinator of Duncan Public Schools in Duncan, Oklahoma.
Endurance FCU's president and CEO, Chris Bower, says they started the teacher grant to give back to teachers that were members of the credit union and to show support for the schools they serve. "The majority of the schools in Stephens County are Select Employee Groups at the credit union," says Chris, "and we take pride in giving back to these schools and teachers that are working to invest in the futures of our kids."
With the grant, Endurance FCU was able to purchase the SOS (Saving our Species): Endangered Earth Curriculum. With this particular curriculum, her 3rd through 5th grade students will be introduced to environmental issues that affect wildlife and people. They will explore issues of increased land & road development on animal populations, clean up simulated oil spill, experiment oil spills effect on freshwater & marine wildlife, create new inventions for cleaning up oil spills, and design & build habitats for a zoo.
This is the 5th year that Endurance FCU has had their teacher grant program available.
For more information about Endurance FCU, please visit www.endurancefcu.org.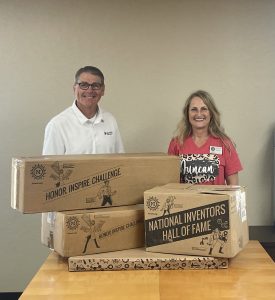 ---
About Endurance Federal Credit Union
Contacts
Jetty Gordon
Administrative/Marketing Specialist
Endurance Federal Credit Union
Ph: 580.255.3550 Ext. 421
www.endurancefcu.org