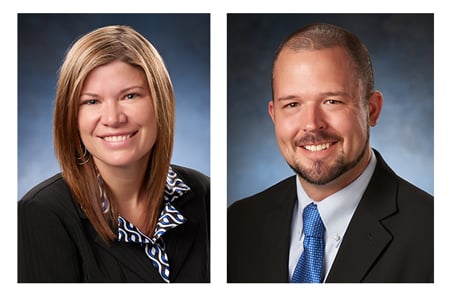 Ent Adds Two Mortgage Loan Officers
COLORADO SPRINGS, CO (April 6, 2015) — Ent Federal Credit Union is pleased to announce the promotion of Keri Gass and Matthew Davidson to Mortgage Loan Officers.
"Adding Keri and Matt to our mortgage lending team supports our commitment to member service," said Jon Paukovich, Ent's Vice President of Mortgage Lending.
Gass, who has an associate's degree in business from Pikes Peak Community College, has been with Ent for 11 years, most recently as a member of the consumer lending team. She will be serving members in the Colorado Springs and Woodland Park area from the Ent Operations Center.
Davidson's 17-year career with Ent includes previous roles as a Lending Specialist and Lending Center Supervisor at the Bon Service Center. He will be serving members in the Pueblo area from Ent's Decibel Service Center.
About Ent
Ent Federal Credit Union, established in 1957, is the leading financial institution in Southern Colorado with $4.0 billion in assets and more than 240,000 members. The credit union provides a full range of financial solutions through 27 service centers throughout Colorado Springs, Woodland Park, Pueblo and Denver. They offer members online, mobile and telephone banking services, a Colorado call center and both a consumer and mortgage loan center. Ent is a not-for-profit, community-chartered credit union with membership open to businesses or individuals living or working in Denver, El Paso, Pueblo and Teller counties, as well as select communities in Weld, Adams and Arapahoe counties. Ent is federally insured by the NCUA. 
Ent.com
---