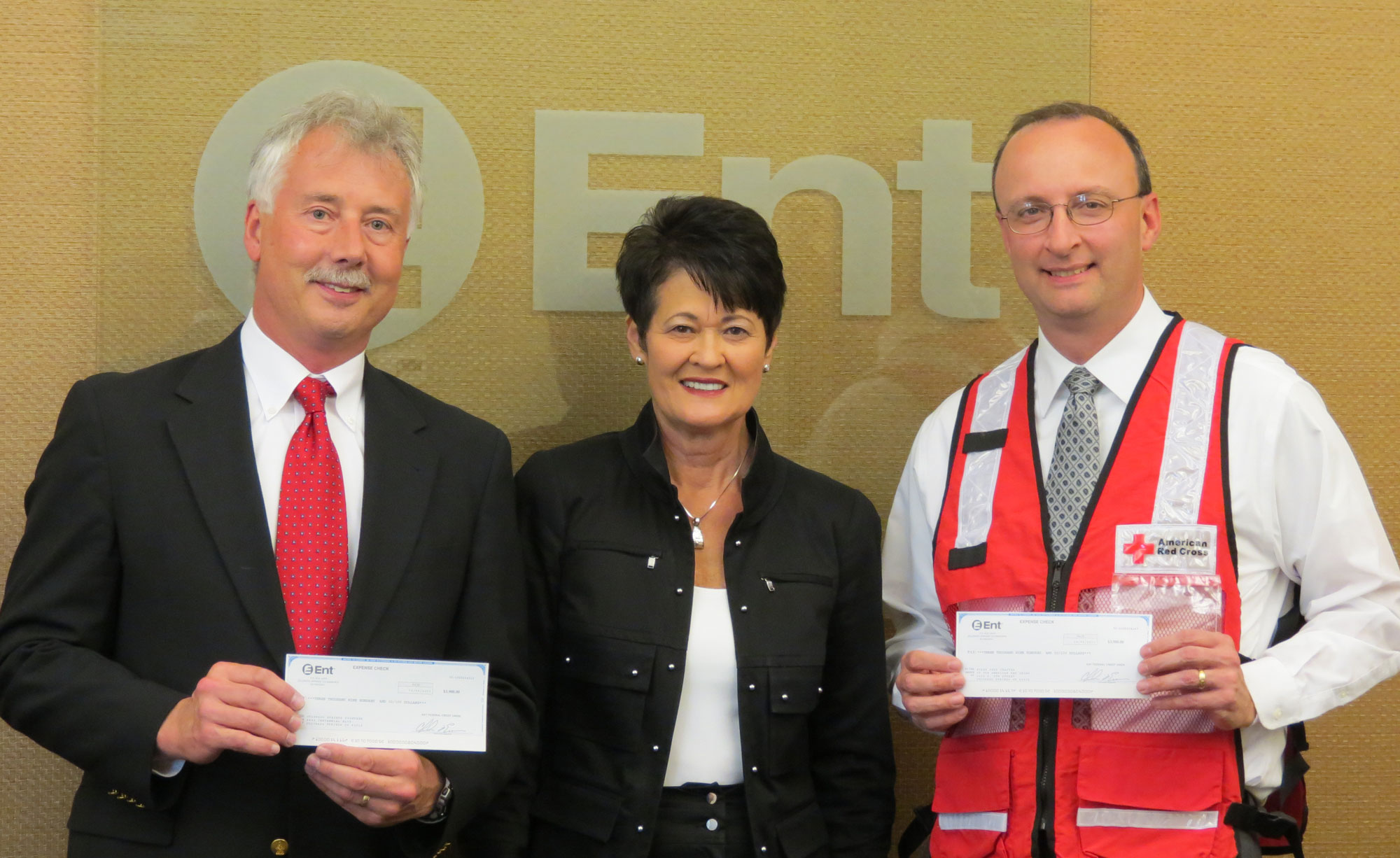 Ent Employees Raise Funds for Local Non-Profits to Support Waldo Canyon Fire Community Recovery Efforts
Colorado Springs, Colo. (Oct. 17, 2012) – Ent employees raised $7,800 to assist local organizations that are working to support recovery efforts for community members impacted by the Waldo Canyon Fire. These funds will be donated to Colorado Springs Together and the American Red Cross Pikes Peak Chapter.
Ent has also supported both local non-profits with corporate donations and in-kind services – $40,000 in monetary donations to Colorado Springs Together and $10,000 to the American Red Cross.
Eight trained Ent employees volunteered more than 160 hours of their time to support American Red Cross shelter operations for evacuees during the Waldo Canyon Fire in Colorado Springs until national assistance teams arrived.
Charles Emmer, chief executive officer of Ent, said "Ent is proud of our employees' efforts to support our community after such a tragic event. Our corporate donations are directed to these local non-profits in order to assist them in providing critical recovery services. 
About Ent
Ent Federal Credit Union, established in 1957, is the leading financial institution in Southern Colorado with $3.6 billion in assets and more than 219,000 members. The credit union provides a full range of financial solutions through 27 service centers throughout Colorado Springs, Woodland Park, Pueblo and Denver. They offer members online, mobile and telephone banking services, a Colorado call center and both a consumer and mortgage loan center. Ent is a not-for-profit, community-chartered credit union with membership open to businesses or individuals living or working in Denver, El Paso, Pueblo and Teller counties, as well as select communities in Weld, Adams and Arapahoe counties. Ent is federally insured by the NCUA. Ent.com
---