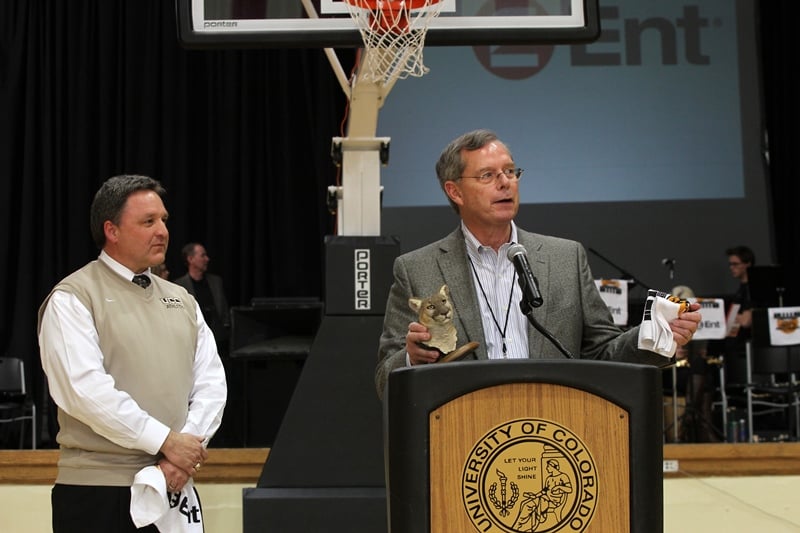 Ent Federal Credit Union recognized for UCCS contributions
COLORADO SPRINGS, CO (February 12, 2014) — Ent Federal Credit Union was honored for its ongoing partnership and recent two-year extension of its financial commitment to the University of Colorado Colorado Springs at the Second Annual Downtown Classic, held Feb. 8 at the Colorado Springs City Auditorium.
Charles Emmer, Ent's chief executive officer, and UCCS Senior Executive Vice Chancellor for Administration and Finance, Brian D. Burnett, conducted a brief center court ceremony at halftime of the men's UCCS vs. CSU-Pueblo basketball game.
"We are deeply appreciative of Ent's continued support of the university and its students," Vice-Chancellor Burnett said. "Their contribution has helped many southern Colorado residents achieve their dreams of a college education and financial success."
During the next two years, Ent, the university's official banking partner, will continue to provide financial support for UCCS student scholarships as well as high-profile efforts such as the Southern Colorado Economic Forum produced by the UCCS College of Business, the Karen Possehl Women's Endowment Unstoppable Women Luncheon, and an athletic booster club.
The KPWE Scholarship supports non-traditional women students interested in earning a college degree. Ent's donation will fund two KPWE scholarships as well as two UCCS Reach Your Peak Scholarships, five student-athlete scholarships and five alumni scholarships.
"Ent is proud to be associated with UCCS and the important role they play in the community," Emmer said. "In addition to scholarship support, the strong partnership between our organizations has enabled us to provide the Lion OneCard and other high quality financial products and services to the students and faculty right on campus."
In 2006, Ent became the official banking partner for UCCS. Ent operates a service center and ATMs on campus and provides faculty, staff and students with the option of an identification card called the Lion OneCard that doubles as an ATM and Visa debit card. In November, Ent and UCCS agreed to extend the agreement through July 31, 2016.
---