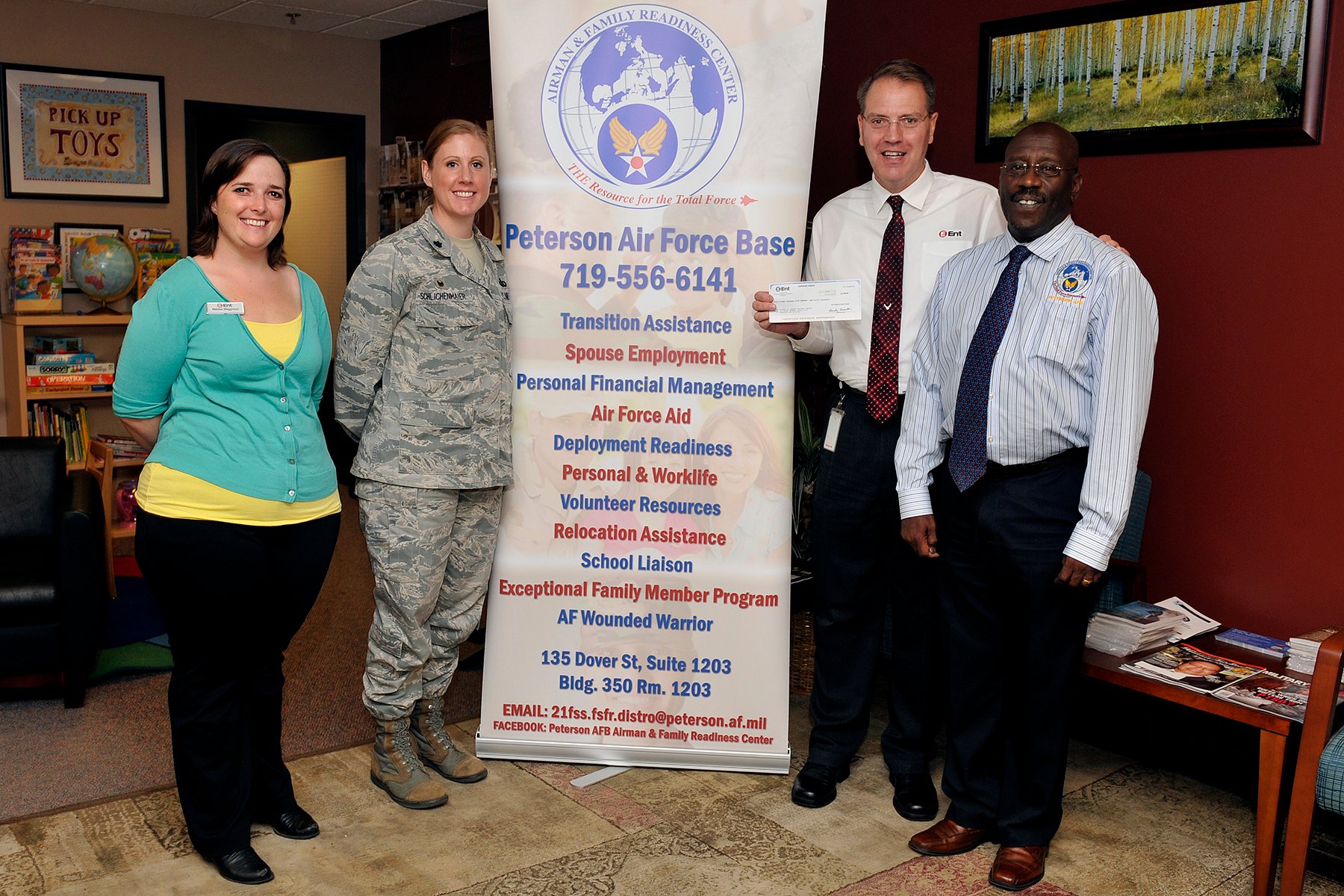 Ent matches AFFN Grant, donating proceeds to military family programs
COLORADO SPRINGS, CO (May 22, 2015) — For the fourth consecutive year, Ent Federal Credit Union has been awarded a grant of $1,500 as part of the 2015 Armed Forces Financial Network (AFFN) Matching Grant Program designed to reward those who support U.S. service members and their families.
Ent matched the AFFN grant to provide $1,500 each to the Friends of Family Support organizations at Peterson and Schriever Air Force bases. Friends of Family Support, a private 501(3)c organization, helps fund a wide variety of services available to military personnel and their families through on-base Airman and Family Readiness Centers. Ent supports activities at these centers during the annual America Saves Week campaign, and staff members teach financial education classes to base personnel throughout the year.
AFFN serves defense credit unions and military banks through a worldwide network of ATMs and merchant/retail locations.
Photo Caption – Dave McAfee, Ent's Military Relationship Manager, presents a $1,500 check to the Peterson Airman and Family Readiness Center. With McAfee are (left to right) Melissa Megginson from Ent's on-base service center, Lt. Col. Tammy Schlichenmaier, 21st Force Support Squadron Commander and Paul Smith, Airman and Family Readiness Center director. (Photo courtesy of 21st Space Wing Public Affairs Office.)
About Ent
Ent Federal Credit Union, established in 1957, is the leading financial institution in Southern Colorado with $4.0 billion in assets and more than 240,000 members. The credit union provides a full range of financial solutions through 27 service centers throughout Colorado Springs, Woodland Park, Pueblo and Denver. They offer members online, mobile and telephone banking services, a Colorado call center and both a consumer and mortgage loan center. Ent is a not-for-profit, community-chartered credit union with membership open to businesses or individuals living or working in Denver, El Paso, Pueblo and Teller counties, as well as select communities in Weld, Adams and Arapahoe counties. Ent is federally insured by the NCUA. Ent.com
---