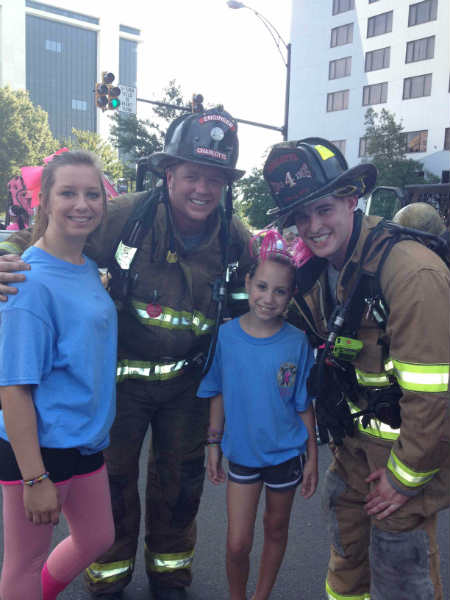 Experiences of members, staff spur Charlotte Fire Department Credit Union commitment to breast cancer fundraising
(October 16, 2013) — Spurred by the suffering they witnessed among the membership, the staff at Charlotte Fire Department Credit Union has been committed to raising funds to fight breast cancer for seven years. Over that time, the credit union has raised tens of thousands of dollars for non-profits such as Susan G. Komen, the American Cancer Society and Carolina Breast Friends.
That commitment hit even closer to home in 2010 and 2011, as breast cancer struck two employees of the credit union, as well as the mother of a third. "We knew the odds," said CFDCU President/CEO Deborah Trotter, "that one or more of us would be faced with this disease someday. But someday came soon."
In early 2010 the mother of employee Lisa Graves was diagnosed with breast cancer and just a month later Anne Marie Moore, one of the youngest CFDCU staff members, got the same news at the age of 32. Then in early 2011, Gayle Hall announced to the staff that she too had breast cancer.
In 2011, the credit union rallied behind their team members. "The staff decided all donations from our fund raising efforts would benefit Susan G Komen and our team name would be "Fighting Pink for Anne Marie and Gayle," recalled Trotter.
The treatment for both staff members was difficult. Both Moore and Hall underwent double mastectomies. Moore continued treatments with chemotherapy and radiation in the months that followed the procedure. Meanwhile, Hall continued treatments with a series of hormone blocking medications.
As Hall and Moore bravely fought breast cancer, the staff put their heart and soul into fundraising. In 2011 the credit union donated over $11,000 to Susan G. Komen, and was the second-largest fund raising team for the Race for the Cure-Charlotte Chapter. One year later, CFDCU raised over $7,000 and was the fifth largest fundraising team for the event. This year CFDCU was recognized as a "Power Team" for its contributions.
Trotter notes that in addition to the commitment of the staff, the $50-million asset CFDCU has been successful at fundraising because their membership has supported them through the years. "They bought our team's tee-shirts, supported our BBQ's with large turn outs, walked with us and made cash donations for the cause." Trotter adds that "several of our members have even made pink bracelets for us to sell to raise money."
Along with the tremendous success the credit union has had raising money, the news for both staff members has been good as well. "Anne Marie is now a three-year survivor and Gayle is a two-year survivor," Trotter shared. Likewise, Lisa Graves' mother is also a three-year cancer survivor.
With October officially designated as Breast Cancer Awareness Month, CFDCU continues raising funds to fight the disease. The credit union once again fielded a team in the Charlotte Race for the Cure earlier this month.
"I hope our story inspires others," said Trotter. "Thanks to our staff and the members, we've been able to make a big contribution to the fight against breast cancer."
---