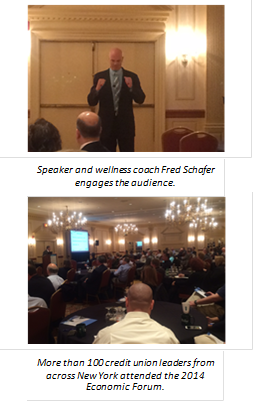 Expert speakers deliver timely presentations at CUANY Economic Forum
ALBANY, NY (October 9, 2014) – Credit union leaders heard from economists, industry experts and a renowned speaker during the Credit Union Association of New York's 2014 Economic Forum. The Forum was held Oct. 7-8 at the Desmond Hotel in Albany, drawing more than 100 attendees from every corner of the state.
"I think anybody who is in a position that deals with planning or forecasting should attend the Economic Forum," said CUANY board member Robyn Young, CEO of Great Erie FCU (Orchard Park, New York). "There is always great, useful information that can be brought back to your credit union or chapter."
The Forum kicked off Tuesday morning with a presentation from Gene Marks, a consultant, author, columnist and blogger who regularly contributes to national publications. An expert on business management, Marks provided the group with updates on business trends that are impacting small and mid-sized companies.
After Marks' presentation concluded, attendees had their choice of concurrent breakout sessions led by industry experts. The three sessions focused on increasing loan profitability, asset-liability management trends and the changing nature of recessions.
Tuesday's agenda concluded with a networking reception, offering attendees opportunities to connect with their peers.
"Without a doubt, the networking opportunities with other credit union individuals is extremely valuable," said John Felton, manager and CEO of Southern Chautauqua FCU (Lakewood, New York). "During this Forum, we've had speakers who get the mind thinking, and then we're able to talk to our colleagues and get their perspectives—it just multiplies the overall value of the event."
Wednesday morning began with a presentation by Dr. Nick Perna, the resident economist at Alloya Corporate FCU. Perna, considered one of the country's top economic forecasters, provided an update on the overall status of the economy. Much of his comments focused on the policies of the Federal Reserve, the Fed's quantitative easing program and both long term and short term interest rate projections.
Perna's outlook on the U.S. economy was generally positive, but he did mention several global risks—such as Europe's unstable economy, the war in Ukraine and turmoil in the Middle East—that could stifle recovery growth.
"We're going to scrape by," Perna said, referring to the U.S. economy over the course of the next decade. "There will be ups and downs, but we will have enough momentum to move through it. But I would not rule out another period of low interest rates."
The Forum concluded with a lighthearted presentation from keynote speaker Fred Schafer. A longtime credit union member, author, wellness coach and speaker, Schafer encouraged the group to "strike back" at mediocrity.
"I took a few messages away from Fred's presentation," said Lynn Gray, CEO of Remington FCU (Ilion, New York). "Specifically, I enjoyed how he encouraged us to grow as individuals by taking more chances in our personal and professional lives."
The 2014 Economic Forum corporate sponsor was CUNA Mutual Group and event sponsors were Alloya Corporate FCU, Covera, CUC Mortgage, CU Direct and UsNet.
---