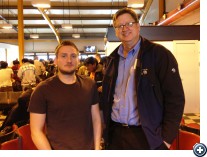 Falkland Islands Seek U.S. Guidance for Establishing CU Framework
U.S. credit union volunteer Dwayne Naylor visits Falkland Islands to assist with framework
STANLEY, FALKLAND ISLANDS — Dwayne Naylor, chief operating officer of Local Government Credit Union in Raleigh, N.C., USA, traveled to the Falkland Islands April 14 to 19 to assist the Falkland Islands Development Corporation with establishing a sustainable credit union framework for its citizens. Naylor was on assignment for World Council of Credit Unions.
One bank branch currently operates on the Falkland Islands, yet residents find it difficult to access credit. The government established the Development Corporation to provide financing to island businesses that have been refused bank financing. In addition to accessing financial services, islanders wanted to share ownership of a "bank" with the same voting rights as any other shareholder. They had heard positive things about North American credit unions and requested World Council assistance to introduce credit unions in the Falkland Islands.
Naylor reviewed the necessary legislative framework and explained the credit union model to interested citizens and local authorities. Naylor assessed local infrastructure, information systems and professional staff capacity and requirements to provide savings, consumer lending, transaction services, remittances, international transfer services and business lending.
Despite keen local interest, the Falkland Islands' small population remains a challenge to credit union sustainability. With just 2,300 working-age islanders, Naylor and Development Corporation staff considered whether a credit union could be sustainable without possibility to achieve scale.
"The Falklands' economy is changing rapidly," Naylor explained. "Increased access to a credit union will be in the community's interest to grow."
The team continues to review alternative information communication technology strategies for cloud-based back-office processing and mobile services on the island.
"We knew this would be a challenge from the start when the Development Corporation approached us," said Brian Branch, World Council president and CEO, "but we remain optimistic that in today's world, credit unions can provide an empowering solution for this community as well."
World Council of Credit Unions is the global trade association and development agency for credit unions. World Council promotes the sustainable development of credit unions and other financial cooperatives around the world to empower people through access to high quality and affordable financial services. World Council advocates on behalf of the global credit union system before international organizations and works with national governments to improve legislation and regulation. Its technical assistance programs introduce new tools and technologies to strengthen credit unions' financial performance and increase their outreach.
World Council has implemented more than 290 technical assistance programs in 71 countries. Worldwide, 51,000 credit unions in 100 countries serve 196 million people. Learn more about World Council's impact around the world at www.woccu.org.
---