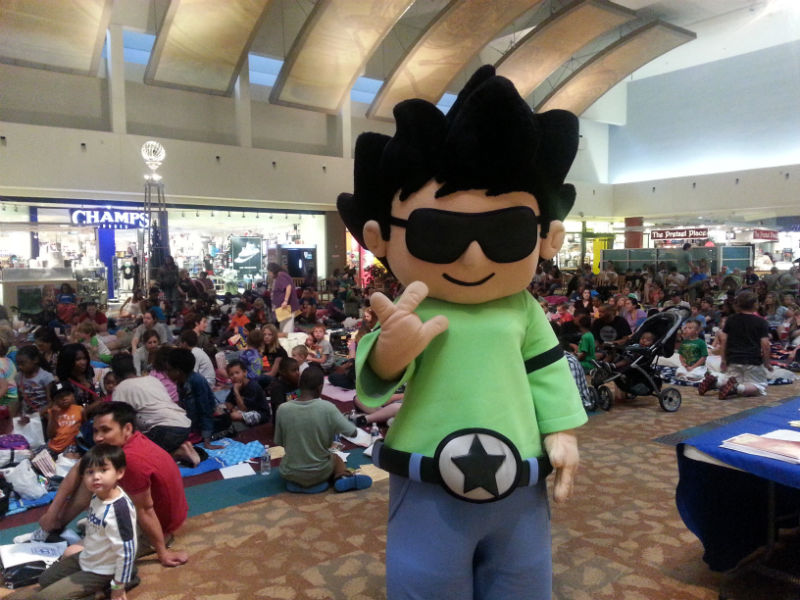 Families pack Westland Shopping Center's East Court during LEGO Movie Night hosted by Co-op Services Credit Union
LIVONIA, MI (June 30, 2014) — Dozens of families brought their kids to the free Saturday night viewing of The LEGO Movie at Westland Shopping Center, hosted by Co-op Services Credit Union.
"We had a great turnout of more than 300 people who came with blankets, pillows and pajamas," said Jeremy Cybulski, Co-op Services' youth and community development coordinator. "Our Rock Star mascot also made a special appearance to greet families before the movie started."
The credit union provided free popcorn, water and lots of giveaways including, Rock Star cups, Rock Star LEGO coloring sheets, and Fun with Money booklets. Movie goers also entered contests to guess how many LEGO bricks were in a jar and "Name the LEGO Movie characters," giving one lucky person the chance to win a 150 dollar mall gift card.
"The mall is a great community/business partner," added Cybulski.  "When we ran short of popcorn and water, they purchased extra and even helped serve it."
According to Cybulski, more special events are planned in partnership with
Westland Shopping Center in the weeks ahead.
Headquartered in Livonia, Co-op Services Credit Union has more than 51,000 members and maintains eight full-service branch offices in metro Detroit. Members also have access to more than 3,000 shared branches and nearly 28,000 ATMs nationwide.  Member deposits are insured to $250,000 by the National Credit Union Administration (NCUA), a U.S. government agency. For more information about Co-op Services, visit the credit union web site at www.cscu.org or call 800.321.8570.

Photo Caption: 
Co-op Services Credit Union's Rock Star mascot greeted visitors to the free viewing of The LEGO Movie at Westland Shopping Center.
---