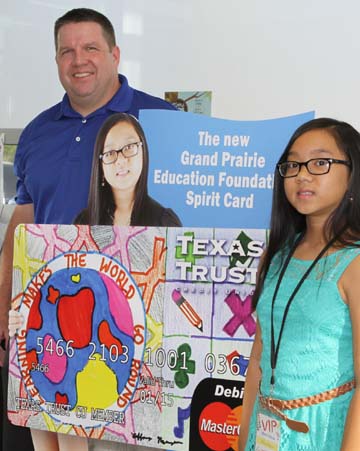 Fifth Grade Grand Prairie Student Designs Debit Card for GPISD Education Foundation
Student-designed artwork to be featured on Texas Trust Debit Card
MANSFIELD, TX (May 31, 2013) Artwork by Tiffany Nguyen, a fifth grade student at Garner Fine Arts Academy in Grand Prairie, will soon be appearing in the wallets of hundreds of debit cardholders supporting the Grand Prairie ISD Education Foundation.
Tiffany's design was selected as the featured artwork for the new Grand Prairie ISD Education Foundation Spirit Debit Reward card. Her art was chosen from 242 entries submitted by GPISD students in kindergarten through fifth grade as part of the Texas Trust Spirit Debit Reward card Design Contest.
The new card design was unveiled May 30 during a special event at Texas Trust's Grand Prairie branch on Camp Wisdom Road. Superintendent Dr. Hull publicly recognized Tiffany for her award winning art at the unveiling ceremony.
More than 240 entries were received from more than 25 elementary schools within GPISD. An independent panel of judges selected six finalists, which included an entry from each grade level (K-5). Each finalist's artwork was posted on Facebook, where students, parents, teachers, and the community voted for their favorite design. More than 17,998 votes were cast on Facebook, and those votes were combined with the scores of the judges to determine the final winner.
Tiffany's design received the top combined score. Her design will be featured on the GPISD Education Foundation Spirit Debit Card, which is used by school officials, administrators, and community supporters to help raise money for the foundation. Every use of the GPISD Education Foundation Spirit Debit Reward Card will earn 15 cents from  Texas Trust.
"Schools in Grand Prairie, Cedar Hill, Mansfield, and Athens, have earned nearly $255,000 in the last two years through their school Spirit Debit Reward Cards," said Jim Minge, CEO of Texas Trust Credit Union. "The art on each Spirit card has been designed by a student, which promotes school spirit and pride."
The new GPISD Education Foundation debit card is available to any member of Texas Trust. In addition to the GPISD Education Foundation Spirit Reward Debit card, each of Grand Prairie's four high schools offers a student-designed Spirit card. GPISD schools have earned $98,227 since the inception of the Spirit Debit Reward card program. The schools receive a monthly check for the money earned.
About the GPISD Education Foundation
The GPISD Education Foundation is a 501-C chartered non-profit composed of community, business and academic leaders within the Grand Prairie community. The organization promotes educational excellence by providing financial assistance through grants and scholarships to teachers and students. The Foundation also funds various art and science related field programs for students each year.
About Texas Trust Credit Union
Texas Trust is one of the largest credit unions in North Texas and the 21st largest in Texas. It has been operating for more than 75 years. As a full-service financial institution, Texas Trust offers checking, savings, mortgages, credit cards, CDs, Money Market accounts, IRAs, and investment and insurance services. Its business services include SBA and conventional loans, electronic payment cards, checking and money market accounts, merchant card processing, online banking, insurance, and the Employee Solutions Network. With assets of more than $760 million, Texas Trust operates in Dallas, Tarrant, and Henderson counties, as well as parts of Ellis and Johnson counties. It has eight branches located in Mansfield, Grand Prairie, Arlington, Cedar Hill, and Athens. Texas Trust is a federally insured financial institution. Deposits up to $250,000 are insured by the full faith of the federal government through the National Credit Union Administration (NCUA). For more information, visit www.TexasTrustCU.org.
---