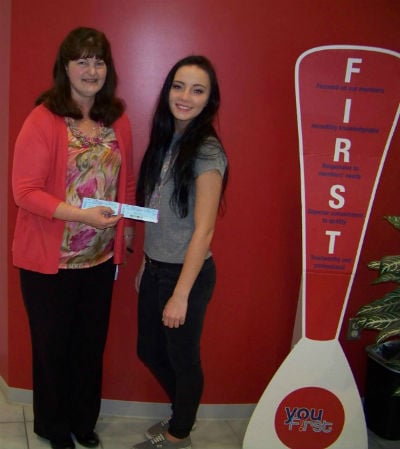 First Capital congratulates two young savers!
YORK, PA (May 26, 2015) — On May 21, 2015, First Capital rewarded two young members for their participation during April's National Credit Union Youth Month™.  This year's theme was "Wild About Saving™" and using that theme, credit unions across the country came up with creative ways to get children involved in the credit union and in saving money.
For our Deep Sea Savers (ages 2-13), we offered animal lollipops for every $25 deposit.  Each lollipop was worth a different dollar amount and depending on which animal the child chose, he/she was awarded extra money, courtesy of First Capital, to deposit in his/her account.
Rock Star Super Savers (ages 14-25) were entered into a drawing for a pair of Hersheypark tickets when they deposited $50 or more, once per week.  At the end of the month, Kylie G. was randomly chosen as our winner.
During the month, First Capital also took part in the Credit Union National Association's youth savings challenge.  Credit unions all across the country entered the contest but only 25 were chosen to receive $100 to give to one young saver.  First Capital FCU was chosen as one of the 25 CUs and we in turn chose Nikki H. to receive our $100.
First Capital Federal Credit Union is a $165 million asset-size credit union with nearly 18,000 members based in York, PA.  Founded in 1954 as S. Morgan Smith Credit Union, First Capital has merged and grown, and continues to work closely with more than 400 companies and organizations throughout York County and across the country.

---