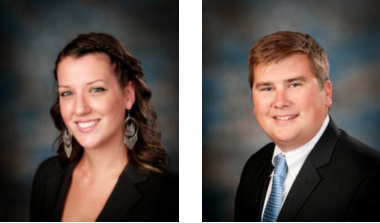 First Citizens' welcomes Kristen Savoie and Mitchell Suzan to Mortgage Sales Team
FAIRHAVEN, MA (September 29, 2014) — First Citizens' Federal Credit Union recently announced the appointment of Kristen Savoie and Mitchell Suzan to the positions of Mortgage Loan Officers for the Plymouth County region.
Kristen Savoie, who joined First Citizens' in 2012, has over five years of banking experience including extensive knowledge in the mortgage industry. As a recent first time homebuyer, Savoie understands firsthand that the process can seem overwhelming and she is dedicated to working with potential homeowners to ensure they are well informed from start to finish. She is an active member in her community and volunteers at the Humane Society in Dartmouth.
Mitchell Suzan, a recent graduate from Florida Southern College, is embarking on his new career as a Mortgage Loan Officer. He will be working with prospective and current homeowners to meet their needs in the areas of new home ownership, refinancing, new construction and Home Equity Lines of Credit. Mitchell currently lives in his hometown of Mattapoisett and enjoys surfing and spending time with his friends and family.
About First Citizens'
First Citizens' Federal Credit Union is one of the premier financial institutions in southeastern Massachusetts. With corporate offices in Fairhaven, MA, First Citizens' can trace its roots back to 1937 when it opened its doors as a credit union in Bristol County. Today, with over 82,000 members and assets over $600 million, First Citizens' has full service offices in New Bedford, Raynham, Taunton, Mattapoisett, Wareham, Falmouth, Mashpee, Hyannis and Orleans. The credit union offers a complete package of personal and business financial services as well as online and mobile banking. For more information, visit www.firstcitizens.org. 
---