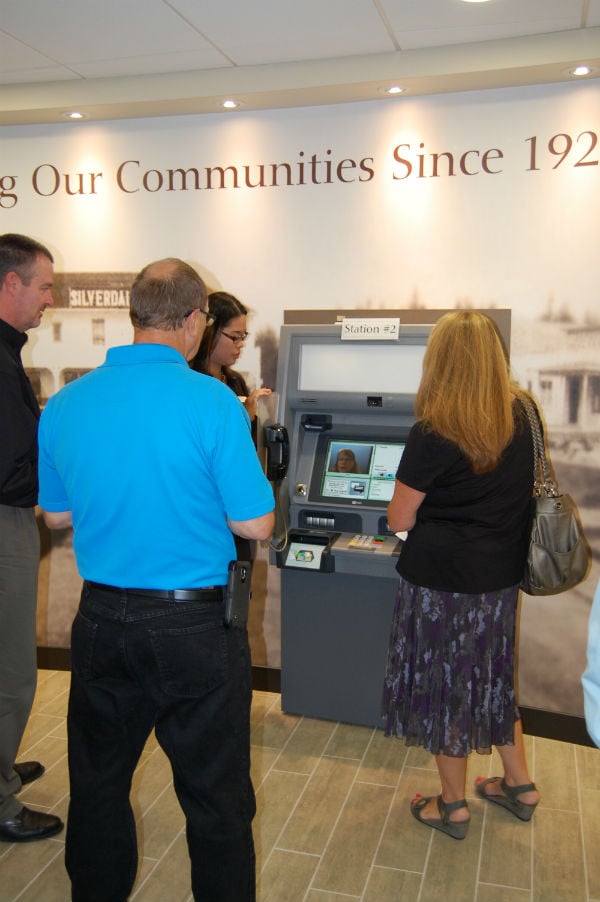 First Federal celebrates grand opening of its Silverdale branch
SEATTLE, WA (October 17, 2014) — First Federal Savings and Loan opened its newest branch in Silverdale, WA this summer. The branch features integrated customer interaction zones, each designed to give First Federal's Silverdale customers a tailored experience ranging from self-service at the state-of-the-art Interactive Teller Machines (ITM) to highly personalized consultative discussions in the free-address offices.
"The design reconfigured the branch so it became less transaction-focused and more relationship-focused, said Kelly Liske, Executive VP and Chief Banking Officer. "Optimizing the branch network requires leveraging what the branch does best – providing targeted financial advice, educating customers on financial products and services, and building customer relationships. There's a lot to be said for technology, but the human connection plays a very important role in all our branches."
First Federal's Silverdale branch is the first implementation of their new branch prototype. It features a smaller footprint, leveraging the adaption of smart ITMs for routine transactions, with the options for in-person service via cash recyclers at a transactional mini-pod areas. Though heavy on technology, this "Modern Industry" design concept allows for more areas to be dedicated to building customer relationships.
Jenny Benguelt, Design Manager at Momentum, said "The 'Modern Industry' design concept embodies the root of what is important to First Federal: their rich and varied history on the peninsula." She attributed the success of the Silverdale branch to First Federal's commitment to its customers – "It focuses on their community-based customer, but also embraces the new ways of doing business with technology. It's a marriage of human-focused interactions with the latest offerings in banking technology and equipment."
About The First Federal Bank
First Federal is the only locally owned and managed savings bank on Washington's North Olympic Peninsula. The community bank is committed to providing its customers and the community with innovative solutions that help meet their financial goals and achieve their dreams. First Federal prides itself on delivering the best banking experience anywhere, with a home town touch.
About Momentum
Momentum is a national integrated design-build facilities firm. For the past decade, purpose driven organizations have come to Momentum to create innovative facilities that drive business strategy, empower people and leverage teamwork to accelerate results.  For more information contact Jay-E Emmingham at jay-e@momentumbuilds.com or 206-267-1900.
---