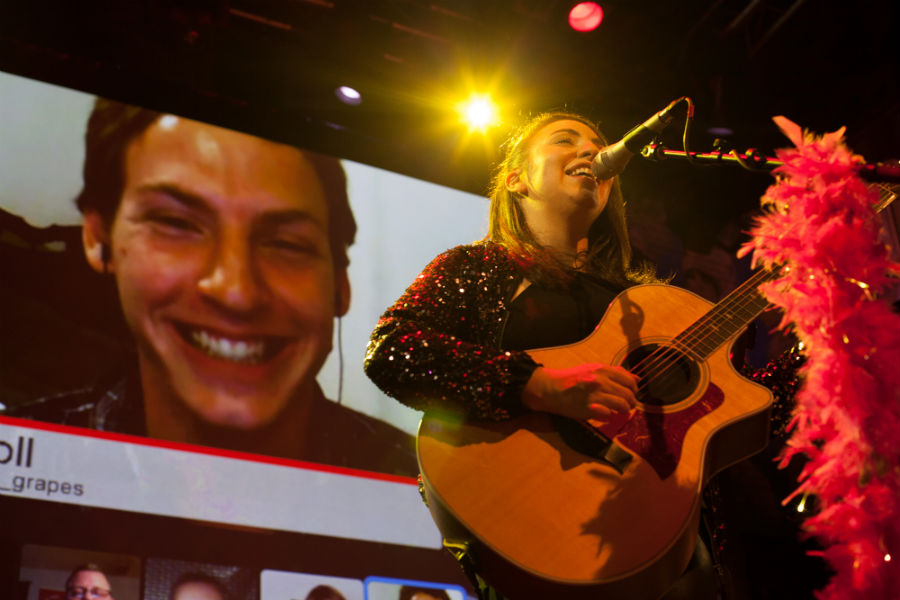 First live, on-line Google+ Hangout concert at House of Blues features singer/songwriter Daria Musk
Concert Kicks off "Empowering People. Amplifying Dreams" from CO-OP Financial Services

NEW ORLEANS, LA (May 27, 2014) — Singer Singer/Songwriter Daria Musk (http://dariamusk.com) performed the first live, on-line Google+ Hangout concert at a House of Blues venue on May 21 in New Orleans. The concert was sponsored by CO-OP Financial Services, a financial technology provider to credit unions based in Rancho Cucamonga, Calif. (www.co-opfs.org). The event kicked off CO-OP Financial Service's "Empowering People. Amplifying Dreams" campaign to promote credit unions to younger, Gen Y, consumers. Musk is serving as spokesperson for the campaign, and the concert will be followed by six future Hangout concerts. The young man enjoying the concert in the background is joining on-line by via Google+.
About CO-OP Financial Services

Based in Rancho Cucamonga, Calif., and founded in 1981, CO-OP Financial Services is the nation's largest credit union service organization in terms of number of credit unions, assets and members. The company helps credit unions thrive by providing products and services that make it more convenient for members to do business with them. With a motto of "Be There. Be More," CO-OP's products fall into three business lines, including "Locations," (ATM, shared branching and call center services); "Card Payments" (debit and credit processing) and "Mobile/Virtual" (mobile, online, check imaging, bill pay services). To learn more visit www.co-opfs.org.
---