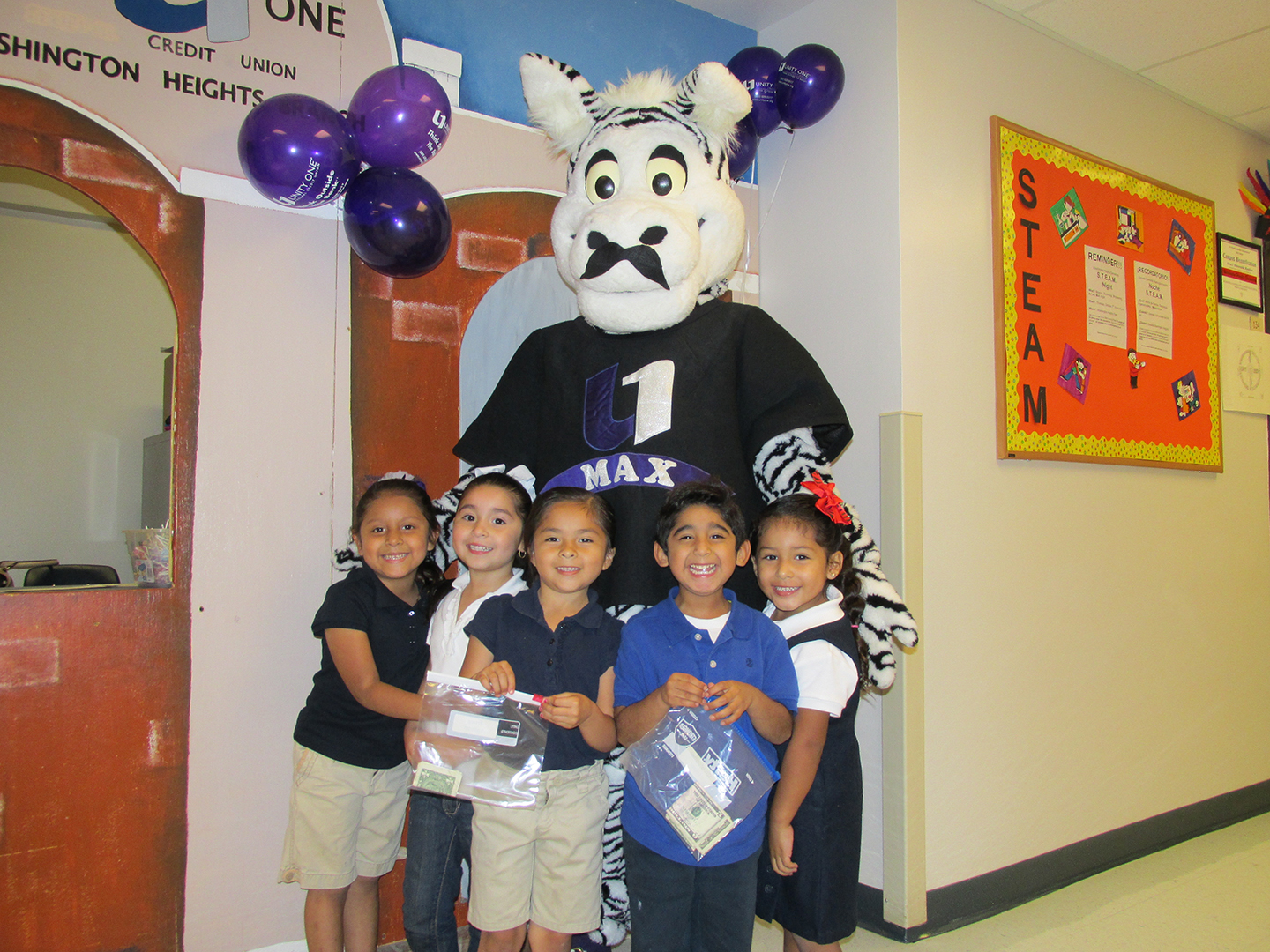 Fort Worth & Keller ISD Students learn financial education through hands-on training
FORT WORTH, TX (October 17, 2014) — Last week Unity One Credit Union celebrated the grand opening of not just one, but two local student-run branches.
The first branch, located at Washington Heights Elementary in the Fort Worth ISD, is run by fourth grade students. These students were nominated by their teachers for their academic performance and desire to learn. Over 300 students (nearly eighty-five percent of the student body) have opened a savings account available at the school.
"It's amazing to watch the excitement of the students each week as they learn new skills such as receiving deposits and balancing a cash drawer," said Cynthia Huerta-Aguirre, Branch Manager at Unity One's Northside branch. "Teaching students the importance of saving early will help them later in life and that's our number one goal, " she said.
The second branch, located at Fossil Ridge High School in the Keller ISD, is run by students every Friday during their lunch periods. Students apply for the position and are trained at Unity One's North Tarrant branch for two weeks prior to the grand opening.
"These students have shown a commitment to working hard and learning skills to help them in their future jobs," said Kathy Jones, Branch Manager at Unity One's
North Tarrant branch. "These tellers sacrifice their lunch each week to help other students achieve their financial goals," she said.
Both student-run branches are open throughout the school year. Students, and their parents, at both schools are eligible for membership with Unity One Credit Union.
About Unity One Credit Union
Established in 1927, Unity One Credit Union is the oldest credit union in Texas. A member-driven and not-for-profit cooperative, Unity One CU served the employees and families of the BNSF Railway for 70 years. However, after transferring its corporate headquarters to Fort Worth in 1998, the credit union expanded its field of membership to include other non-railroad companies, organizations and individuals.
Today, anyone who lives, works, worships or attends school in Fort Worth, Blue Mound, Saginaw, Haslet, Keller, Colleyville, Bedford, North Richland Hills, Southlake, St. Paul, MN and Kansas City, KS may apply for membership. Unity One CU has seven branches to serve over 30,000 members nationwide. For more information about Unity One Credit Union, visit www.unityone.org. Think outside the bank.™
---