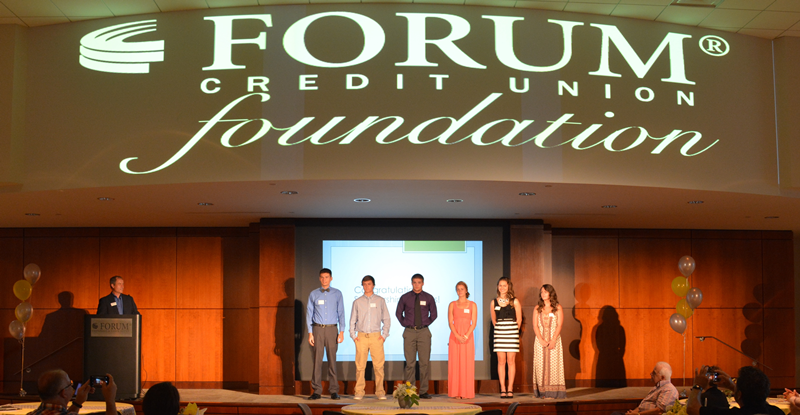 FORUM Credit Union hosts 2015 Foundation Summer Reception
INDIANAPOLIS, IN (June 26, 2015) — FORUM Credit Union recently held its inaugural Foundation Summer Reception at the FORUM Conference Center in Fishers to honor the Foundation's first year recipients. Fifteen teachers from central Indiana received educator grants and seven high school seniors received collegiate scholarships.
The following teachers received educator grants to be used in their classrooms:
Jessica Belton, Avon High School, Clara Crosby, Arlington Elementary, Franklin Township Schools, Valerie Ferry, Carey Ridge Elementary, Westfield Washington Schools, Kristin Hancock, GW Carver Montessori 87, Indianapolis Public Schools, Craig Helming, Noblesville High School, Amanda Holland, Mt. Comfort Elementary, Mt. Vernon Schools, Kendra Kidwell, Abraham Lincoln Elementary, Perry Township Schools, Laura LaCross, Riverside Intermediate School, Hamilton Southeastern Schools, Kelly Looper, Guion Creek  Middle School, Pike Township Schools, Terri Perkins, Francis Bellamy 102, Indianapolis Public Schools, Regina Rexrode, Stony Creek Elementary, Noblesville Schools, Christina Riley, Options Charter School, Carmel, Josh Torres, Center Grove High School.
The following students received $5,000 collegiate scholarships, renewable for up to four years and $20,000:
Megan Burcham, Avon High School, Caroline Crosslin, Danville Community High School, Victoria Long,Center Grove High School, Isaac Ray, Hamilton Heights High School, Alec Ridenour, Cathedral High School, Michael Shores, Hamilton Southeastern High School, David Work, Carmel High School.
The FORUM Credit Union Foundation is dedicated to strengthening the communities we serve by enhancing youth educational opportunities.  "As a financial cooperative, FORUM is committed to helping members live their financial dreams," said Andy Mattingly, Chairman of the FORUM Credit Union Foundation Board. "We are truly thrilled to be able to award these grants and scholarships to members of our community."
The educator grant application is currently open to teachers through September 1, 2015. Grant recipients will be announced October 1, 2015.  The application for collegiate scholarships will be available October 1, 2015 with recipients being announced in the spring of 2016.  Teachers and students can apply through a quick and easy online application form.
For more information on the FORUM Credit Union Foundation please visit www.forumcu.com/foundation.
---