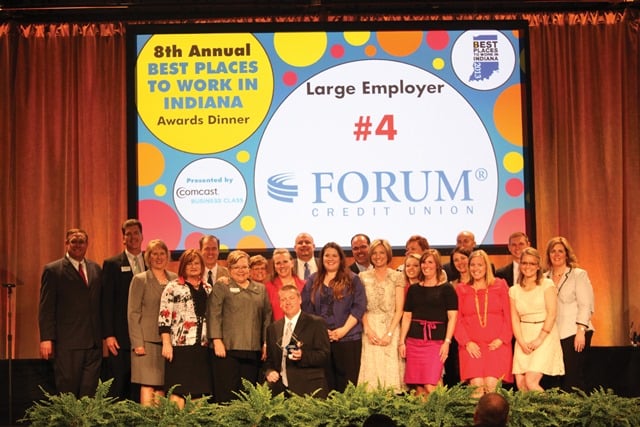 FORUM Credit Union Receives Best Places to Work Honor
INDIANAPOLIS, IN (May 6, 2013) FORUM Credit Union is honored to be recognized as a "Best Place to Work in Indiana" for 2013.  Companies that have set the standard for workplace excellence were recognized on Thursday, May 2 by the Indiana Chamber of Commerce at the JW Marriott.
Top companies in the state are determined through employer reports and comprehensive employee surveys.  This year's record of 100 winners were selected from four categories: small companies of between 15 and 74 U.S. employees; medium companies of between 75 and 249 employees; large companies of between 250 and 999 employees; and major companies with 1,000 or more employees.  The Best Companies Group handles the selection process and oversees similar programs country-wide.
FORUM earned a fourth place ranking among large companies.  This is the second consecutive year that FORUM has made the list with the company receiving a thirteenth place ranking in 2012.  FORUM joined three other credit unions in this year's top ten.
Doug True, CEO of FORUM Credit Union, stated, "Being named as one of the Best Places to Work in Indiana again this year affirms our efforts in making FORUM a fun and fulfilling place to work.  We know our FORUM members enjoy being served by an energized team that takes pride in helping them live their financial dreams."
This is the eighth year for the program.  All companies that participate in the Best Places to Work program will also receive an in-depth evaluation identifying strengths and weaknesses according to their employees.  More information about the Best Places to Work companies is available in special section of the Indiana Chamber's BizVoice ® magazine.
About FORUM Credit Union
FORUM Credit Union, with 12 branch locations and anywhere access via the internet or mobile device, serves more than 100,000 members in the central Indiana area. A full suite of financial services are offered, including home mortgages, auto loans, free checking, rewards checking, business checking, health savings accounts, and investment planning. For more information about FORUM Credit Union please visit: www.forumcu.com.
---