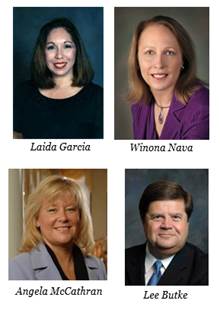 Foundation Board elects officers
Garcia Re-elected as Chairman, Nava Elected as Vice Chairman
MADISON, WI (January 16, 2015) — The National Credit Union Foundation (the Foundation) board of directors held officer elections at its January 14, 2015 meeting re-electing Laida Garcia, President/CEO of floridacentral Credit Union in Tampa, Fla., as Chairman, and electing Winona Nava, President/CEO of Guadalupe Credit Union in Santa Fe, N.M., as Vice Chairman.
Lee Butke, President/CEO of Corporate One FCU in Columbus, Ohio, was re-elected as Treasurer, and Angela McCathran, President/CEO of People's Trust Federal Credit Union in Houston, Texas, was elected as Secretary.
In addition to the aforementioned, the members of the Foundation board are:
Jim Nussle, President/CEO of the Credit Union National Association in Washington, DC (President);
Bill Cheney, President/CEO of SchoolsFirst FCU in Santa Ana, Calif.;
Tom Dorety, President/CEO of Suncoast Credit Union in Tampa, Fla.;
John Graham, President/CEO of Kentucky Employees Credit Union in Frankfort, Ky.;
Teresa Halleck, President and CEO at San Diego County Credit Union, in San Diego, Calif.;
Stan Hollen, President/CEO of CO-OP Financial Services in Rancho Cucamonga, Calif.;
Patrick La Pine, President/CEO of the League of Southeastern Credit Unions and Affiliates in Tallahassee, Fla.;
Larry Middleman, President/CEO of CU Business Group, LLC in Portland, Ore.;
David Mooney, President and CEO of Alliant Credit Union, in Chicago, Ill.;
Courtney Moran, Executive Director of the Cornerstone Credit Union Foundation in Farmers Branch, Texas;
Christopher Roe, SVP, Corporate & Legislative Affairs, CUNA Mutual Group in Madison, Wis.;
Howard Spencer, Chairman of the Board of Directors for Northland Area FCU, in Oscoda, Mich.;
Mark Twisdale, EVP, Administrative Services, State Employees' Credit Union in Raleigh, N.C.; and
Edwin Williams, President/CEO of Discovery Federal Credit Union in Wyomissing, Pa.
About the National Credit Union Foundation (ncuf.coop):
The National Credit Union Foundation (the Foundation) is the charitable arm of the U.S. credit union movement and works as a catalyst to improve people's financial lives through credit unions. Through Foundation grants and programs, credit unions provide widespread financial education, create greater access to affordable financial services, and empower more consumers to save, build assets, and own homes.  Donations to the Foundation enable credit unions to help their members reach life-changing goals and achieve financial freedom.
The National Credit Union Foundation is a 501(c)(3) tax-exempt charitable organization. The Foundation continues to earn the Better Business Bureau seal of approval as an "Accredited Charity" for meeting all 20 BBB Wise Giving Alliance Standards for national charities.
---